'I'm just a girl standing in front of a boy asking him to love her'… Well no not really, but how else was I meant to start a post about exploring Notting Hill, London? 😉
Last summer (excuse the amount of time it's taken for me to finally get this post up) I took a trip to London's 'village within the city' – Notting Hill. Despite being located in the bustling heart of London, Notting Hill has a unique charm and vibrancy, which instantly made it my new favourite Neighborhood in the city!
Thus, I'd highly suggest a visit… Here's everything you need to know to have an amazing time exploring Notting Hill:
♦♦♦
How To Get To Notting Hill  – 
Notting Hill London is best reached on the tube! Simply take the Central Line to Notting Hill Gate station and you'll be a short walk away from the areas main sights and attractions.
Ladbroke Grove station is another great option if you're travelling on either the Circle or Hammersmith tube lines!
---
Where To Eat In Notting Hill – 
Since I'd been exploring the nearby 'Kensington Palace' on the morning of my visit to Notting Hill, I arrived in the area around midday with one thing on my mind – food! Thankfully I quickly learnt that the Notting hill food scene has a lot to offer!
READ MY ULTIMATE GUIDE TO VISITING KENSINGTON PALACE HERE 
I'd read online that Westbourne Grove has one of the best concentrations of restaurants and cafes in the area, and I wasn't disappointed!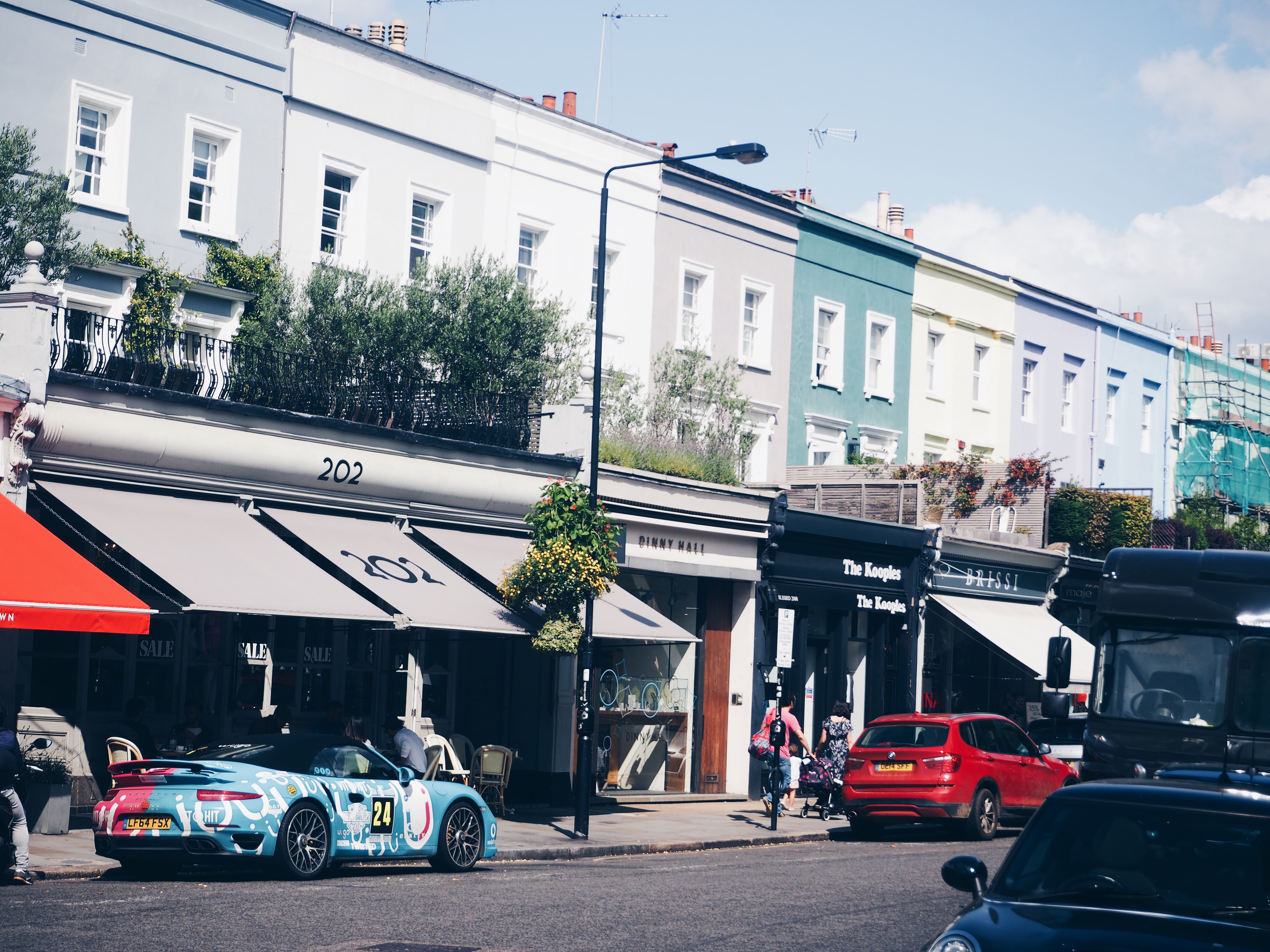 I opted to have lunch at the 202 café, which is linked to a boutique clothing store. This means you can eat and shop at the same time… and what's better than that? Although a tad expensive, the food was to die for!
---
Things To Do in Notting Hill  –
Shop At Portobello Market –
Portobello road should be your first stop in Notting Hill, and it's very easy to find! All I had to do was follow the crowds leading from Notting Hill Gate station.
Visit on a Saturday and the bright and vibrant road comes alive with an antique's market, which happens to be the biggest in the world. The so-called 'Portobello Market' is undoubtedly the most famous of Notting Hill attractions and is the perfect place to find one of a kind antiques and vintage clothes.
Visting in the week, I missed the market, but a visit to Portobello Road is still one of the top things to do in Notting Hill, whatever the day! I enjoyed browsing the plentiful shops that now permanently line the street. Moreover, as the 'backbone' of Notting Hill, it's a fantastic place to take in the 'vibe' of the neighbourhood
Visit a vintage Cinema –
Portobello Road is also home to one of the oldest working cinemas in Britain. The 'Electric Cinema' provides the opportunity to watch the latest blockbuster films in unparalleled comfort. This is thanks to the cinemas vintage leather armchairs and footstools. There are even double beds available for couples!
Bear in mind you'll need to book online in advance and tickets start at £20 per person.
Drown your sorrows at 'The Distillery' –
Slightly further up Portobello road, the famous street has, even more, to offer in the form of  'The Distillery'. Home to the internationally renowned 'portobello road gin' this working distillery not only has a quirky cocktail bar (with an extensive gin menu) but, also provides cocktail making master classes, and boutique rooms where you can spend the night in the heart of Notting Hill.
I opted for the 'Gin Mare' Cocktail which was certainly a very strong (but tasty) afternoon 'pick me up'. 😉
Gaze at colourful houses –
What I personally enjoyed the most about Notting Hill London, was its endless rows of colourful houses. The fabulous hues around every corner could brighten even the most overcast London day!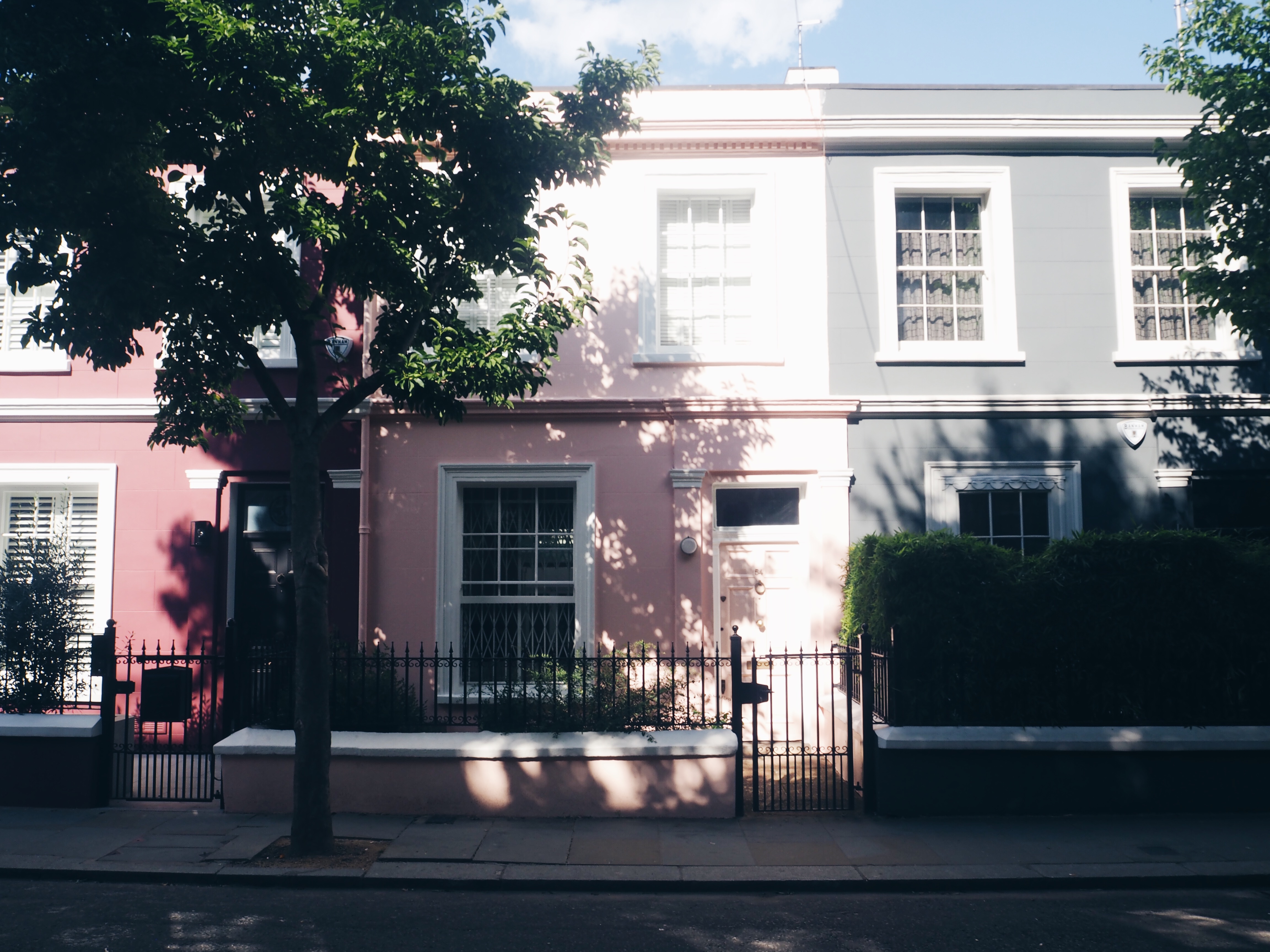 Highlights include Lancaster Road (found at the top of Portobello Road) which features a rainbow of brightly coloured houses. Painted, red, purple and even green, these homes are certainly bold!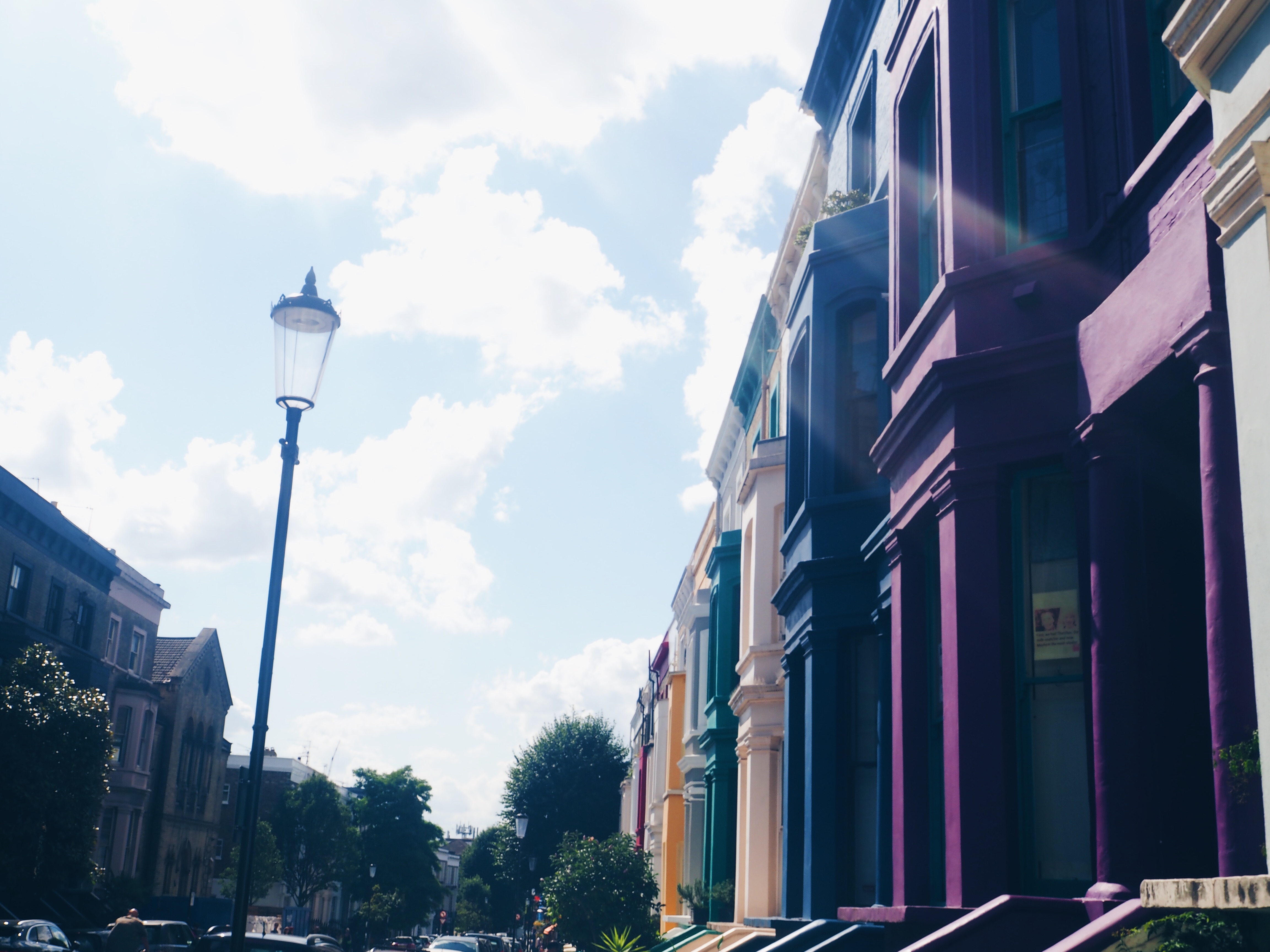 However, my favourite street in Notting Hill is actually the less famous Denbigh Terrace which has a more subdued feel, as pretty pastels hold rank. While I can't help but think about how annoyed homeowners must get about strangers taking photos on their doorsteps, I just had to stop for a little 'instagram shoot' on this picture perfect street…
Explore Timeless Mews –
If Lancaster road and the Denbigh terraces weren't enough to make you envious of anyone living in the area, another great thing to do when exploring Notting Hill is to seek out its labyrinth of hidden Mew's.
St Lukes Mews (near to Lancaster road) is certainly Instagram-worthy with its ivy-covered houses and white painted doors.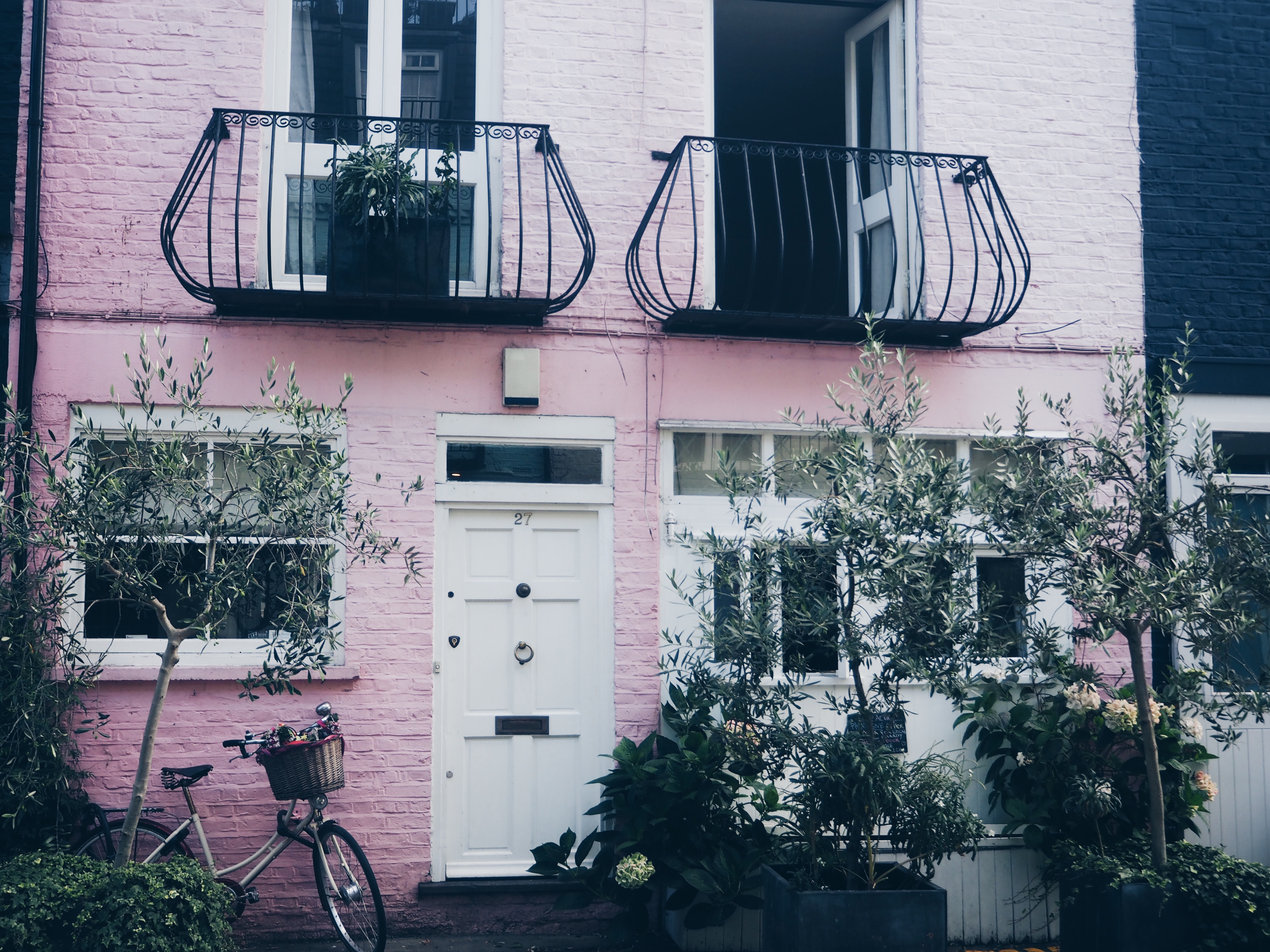 Colville Mews also deserves an honourable mention, although I did not personally have time to explore what it had to offer.
Finish the day with Gelato –
Exploring Notting Hill in summer can make you pretty hot! Thankfully Portobello Road has some of the best Gelato stores in the UK.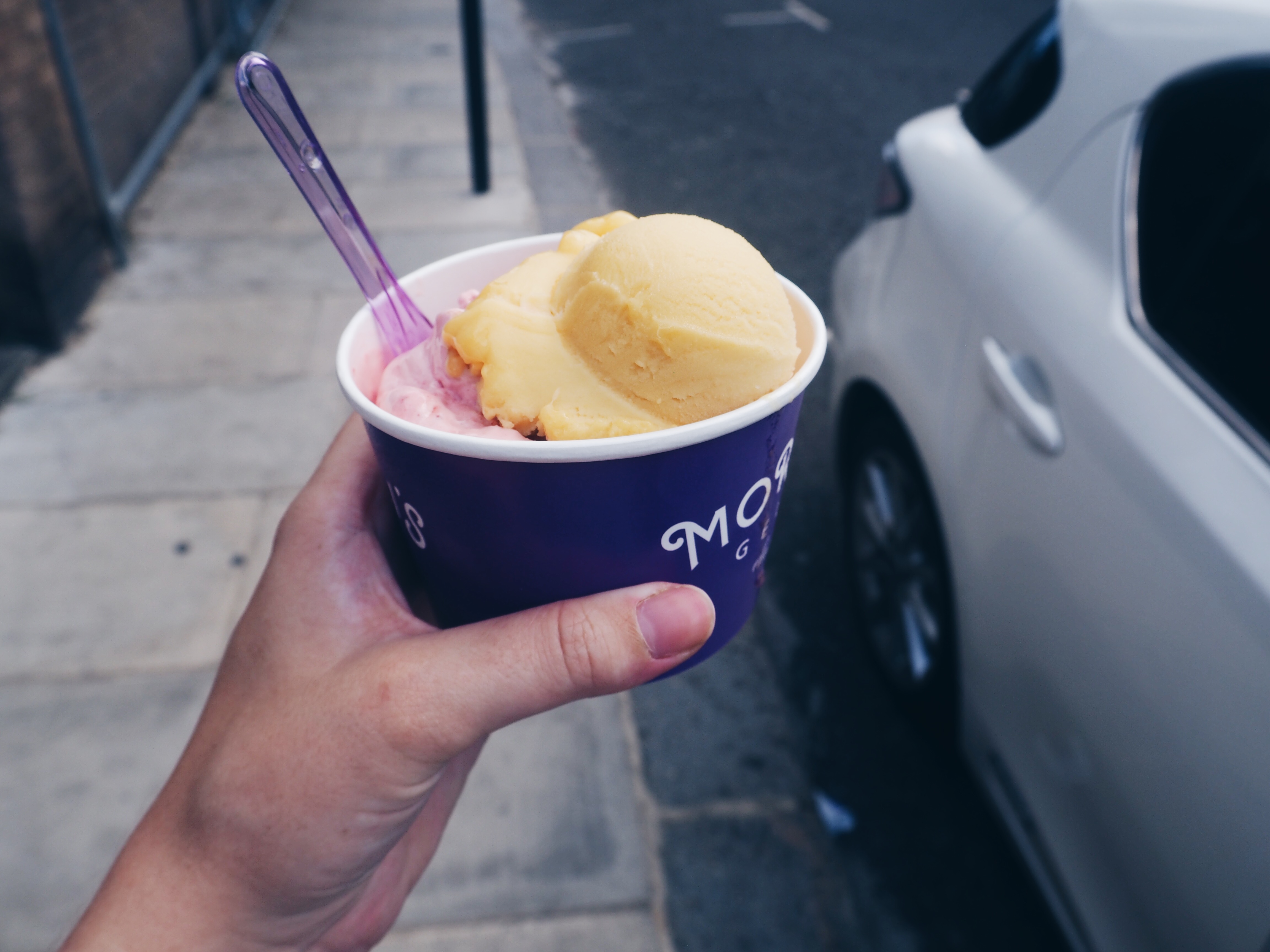 As I wandered back to down the street to Notting Hill Gate, it seemed only right to stop and grab myself a delicious treat :).
♦♦♦
My day exploring Notting Hill was one of my favourite's of the summer! The area offers the perfect mix of everything I love about London: adorable cafes, beautiful streets and unique shopping experiences. You'd be a fool not to head to here when in London.
PIN FOR LATER –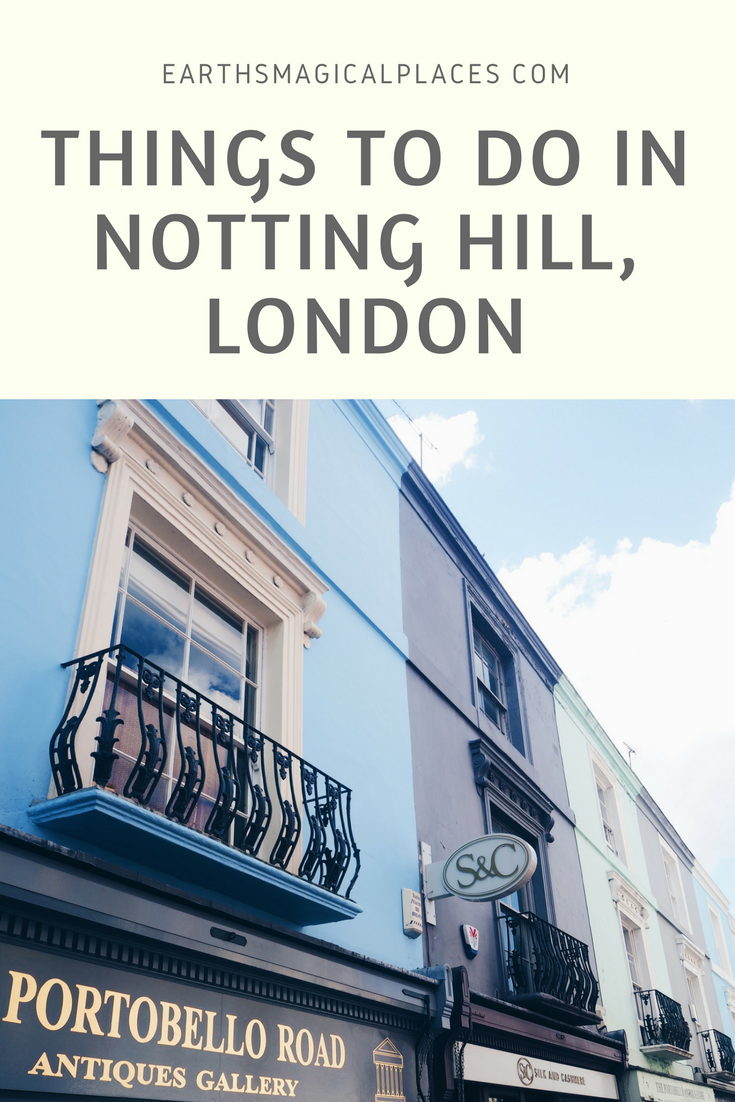 what are your top things to do when exploring Notting hill? Let me know in the comments below:
Subscribe to Blog via Email