For my first few days in Bali, I decided to treat myself to a little bit of luxury and booked into the Artotel Sanur for the first two nights of my trip! This 4 star hotel combines local art and contemporary architecture with high international standards – according to Booking.com anyhow. 😉
Below I've reviewed my personal experience of staying at this rather unique hotel:
♦♦♦
Location – 
The Artotel Sanur is in a near perfect location! It's right in the centre of the province and only around a five minute walk from the 7km long Sanur Beach.
Read my post Sanur Beach Here 
---
Accommodation – 
On first impressions, the architecture of the hotel is striking! Wide open spaces, abstract shapes and a modern feel entice you in while the colossal staircase welcomes you to embark upwards to your room…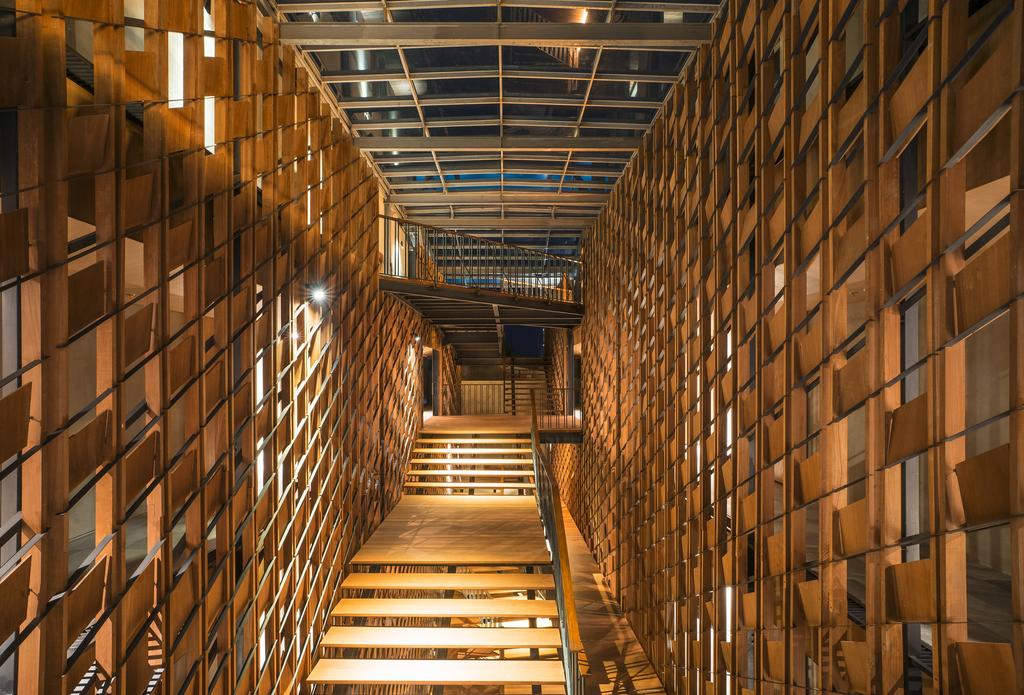 The excitement I felt in the lobby, extended into my room! It was spacious, clean and had the biggest god damn bed I've ever seen! More than this, it came equipped with a huge TV (which had a good selection of US stations), sound system and amazing waterfall shower. Every room in the Artotel Sanur also has a little balcony which, I thought was a nice extra touch!
However, one thing that did not impress me about the accommodation was the live music which bellowed into my room from the hotels Bocca Bar and Restaurant! Not only was my room situated right above the restaurant (just my luck) but, the hotels 'atrium' layout allowed the music to echo up the stairwell. In other words, I could hear the music from two angles which, let me tell you was very noisy and disorienting!!
 Although the music did stop by 10pm, on my first night, I was jet-lagged, in my PJ's and ready to 'hit the hay' at 8pm! This meant I had to listen to the lovely (please note my sarcasm) music for two hours before finally being able to get some sleep! Thus, I wouldn't recommend the Artotel Sanur if you're travelling with kids… Unless you want the little darlings to be sleep deprived 😉
---
Breakfast – 
Breakfast at the Atotel Sanur is held in the previously mentioned Bocca Bar and Restaurant, the atmosphere of which is lovely. As for the food? It was okay although nothing special! It is however included in the price of your booking so I can't really complain!
This said,  to me a lot of what was on offer did not look appetising! More than this though, there simply wasn't a great deal of variety! I opted for egg (which is cooked fresh), wedges and fruit both the mornings I stayed…. Weird combo I know. 🙂 But, the point is if I'd stayed for a prolonged period, I would have very quickly got bored of the offerings!
However, there is obviously the option of going out to one of Sanur's many restaurants and cafes for breakfast so it's not a huge issue in the scheme of things!!
---
Facilities –
 The Artotel Sanur is packed full of facilities for guests to use and enjoy! The Spa and Wellness centre on the top floor is a must visit! But, the hotel also has several conference rooms, in-house currency exchange, free to use computers and even several social seating areas.
My personal favourite, however, was the rooftop bar and pool. The infinity pool is stunning… It's almost worth a stay just for the Instagram opportunities. 😉
However, one downside was that the seating area around the pool is small and restricted. What I mean by this, is that there's room for no more than 10 deckchairs. For a hotel with over 80 rooms, this is simply not enough! It was like hunger-games trying to nag a deckchair in the mornings!!
---
Service – 
Upon my arrival at the Artotel Sanur I was given a cold towel and refreshing cocktail as I checked in. This was much appreciated after lugging my far too heavy backpack through the airport! 
Payment was taken up front. At the time I was a little taken aback by this! Did they think I was going to run off without paying? But, I later found this was common practice in Balinese hotels…
Generally, the staff were super friendly and helpful! For example, the cleaner said hello to me every-time I left my room and the restaurant staff accommodated my Gluten Free needs without hesitation.  However, the service I received at the help desk somewhat tainted my experience at the hotel:
Firstly, I asked if they could suggest a tour of Denpasar and the surrounding area, to which the staff simply told me there were only beaches nearby and instead pushed for a day tour of Ubud. I declined as I was already visiting later on my trip!
A bit disgruntled as I wanted to go out and explore,  I went back to my room and did some research of my own and actually found that there's a lot to see/do (just beaches my arse)! In this way, I planned my own tour and decided to hire a driver… I then went back to the desk asking if they could hire said driver for me. 
By now, the staff were getting on my nerves as they quizzed my itinerary and insisted I would need to hire a boat to get to 'Turtle Island'; ignoring me when I said I didn't want to visit here but the Turtle Conservation Centre that I knew for a fact did not require a boat!
Following this, they then proceeded to quote me 800,000 IR for a driver before turning around and saying that actually, I couldn't hire a driver for just one person… So once again, I went away and did all the work myself! Finding a lovely driver through BaliCabs.com for just 550,000 (£40). 
The experience really frustrated me! For one, most hotels around the world love sharing tips and information of things to do/see in their area (every-where else I stayed in Bali provided a map of the area and had several leaflets to hand). But more than this, I felt as though the staff were rather condescending!
---
Price –  
I booked the Artotel Sanur as a little treat for myself! However, its four stars and luxury feel came with a pretty hefty price tag! I stayed in a Studio 40 room for £70 a night. Although in the West this would be an amazing price, in Bali… Not so much!
If I'm completely honest, I think this is slightly overpriced! The hotel was good, but it wasn't amazing! The room wasn't massive and the food average. Further, although the rooftop pool was impressive most hotels in Bali boost ones equally as extrinsic and actually with more space…
♦♦♦
So, would I stay here again? 
Although my stay was overall pleasant, I wouldn't rush back! As stated above, I found the Artotel Sanur a little expensive for what you get and to be honest my help desk experience really got on my nerves!
More than this though, I simply wasn't 'blown away'. Considering the number of hotels in the region, if I were to return to Sanur, I'd probably opt for different accommodation. I walked past many stunning resort hotels on Sanur Beach which struck my fancy. 😉
DISCLAIMER: I do not own most of the photos in this post, many are taken from the Artotel Sanur's Website
PIN FOR LATER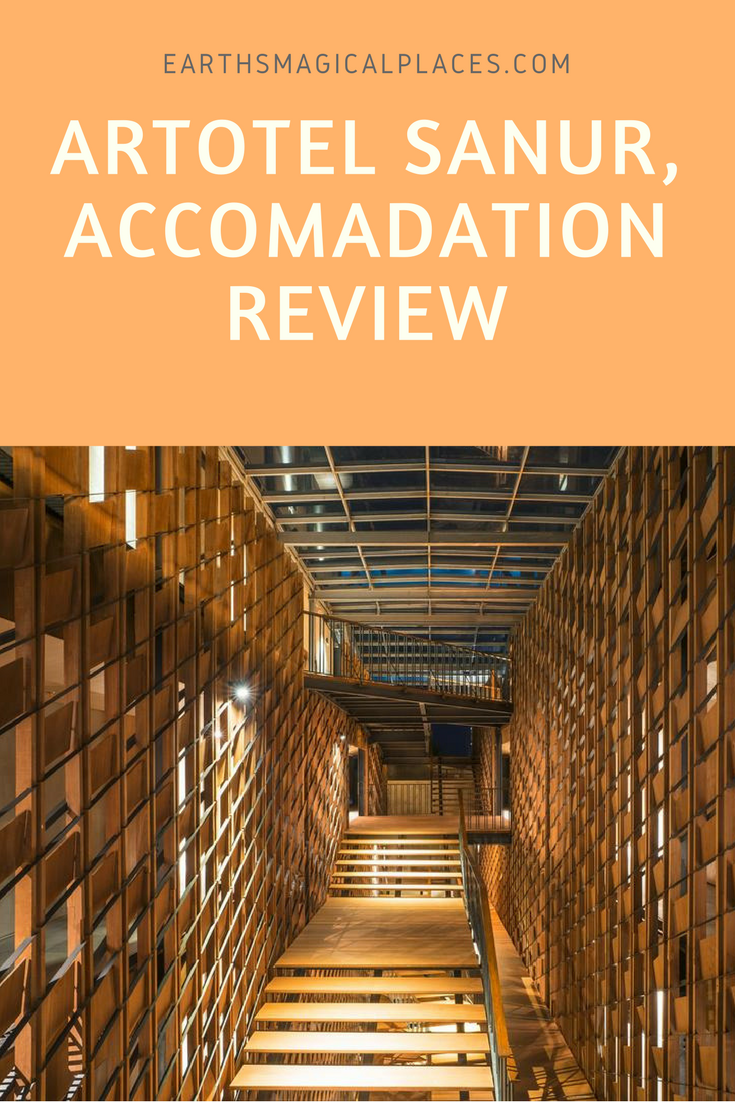 If you've stayed in Bali I'd love to hear about any hotels/villas you'd recommend in the comments below 🙂
[blog_subscription_form]