If you've been reading my recent posts:
You'll be aware that my family and I recently spent a long weekend in the Cambrian town of Carlisle. Our base for the trip was the historic Crown & Mitre Hotel... But would I recommend a stay?
♦♦♦
Location – 
Situated in the centre of Carlisle, right off its main shopping street, and less than a minute walk from the towns famous cathedral,  the location of the Crown and Mitre couldn't be better!
However, being within walking distance of Carlisle's highlights does come with a compromise… Parking!
During our visit, we were met by closed iron gates meaning we had to call someone to let us into the car-park.. Certainly not the best introduction to the hotel!
On top of this, once we were finally granted entry, it quickly became apparent that Hotels does not have adequate parking for the number of guests! Many visitors who arrived after us were forced to block in other cars. This is not great if you have plans to explore the scenic region surrounding Carlisle!
---
Accommodation –
Arriving at the hotel by car also means you approach it from the back, down a rather ominous looking side street. I can't help but feel that the hotel really needs to work on its first impression! Sure the front of the hotel is rather pretty, but considering many guests will arrive by car, a potted plant or two in the car-park wouldn't hurt!
Contrary to this however, the main lobby is quite grand, following the quintessentially British style of hotels such as the Ritz in London. Although the Crown and Mitre doesn't pull the style off to the same degree, its traditional feel is well founded. After all, the hotel was built in 1905 and was even visited by US president Woodrow Wilson.
While this vintage style is quite impressive in the lobby unfortunately, the same can't be said for the rooms… During our stay, my room was based in the 'annex'  and was simply outdated, run down and shabby. There's a big difference between channelling the 1920's and having a carpet which feels that old!
On top of this, my particular room was right next to a boiler which rumbled all night! The tap dripped constantly and the bed (although clean) was hard and uncomfortable. Further, despite having a radiator on full blast the room was freezing! All this considered, I struggled to have a good nights sleep!
---
Facilities –
Overall, the hotel has pretty good facilities!
There's several good sized dinning rooms in which complimentary breakfast is served. This said, on our trip to breakfast my family and I were told to wait in the hallway as they did not have a table available – another example of bad service in my opinion.
The food itself can be summed up in one word – meh…
The 'Continental' breakfast could be a lot better! There was a very limited choice of fruits, meats and cheeses. For example, the cheese selection simply consisted of  a few packaged blocks of rubber! Meanwhile, the cooked breakfast left something to be desired. It tasted as though it'd be sitting on the hot plate for hours…
I can't comment on the dinner as, due to the hotels location, we chose to dine in town. But, if its anything like the breakfast, I'm glad we opted to do so!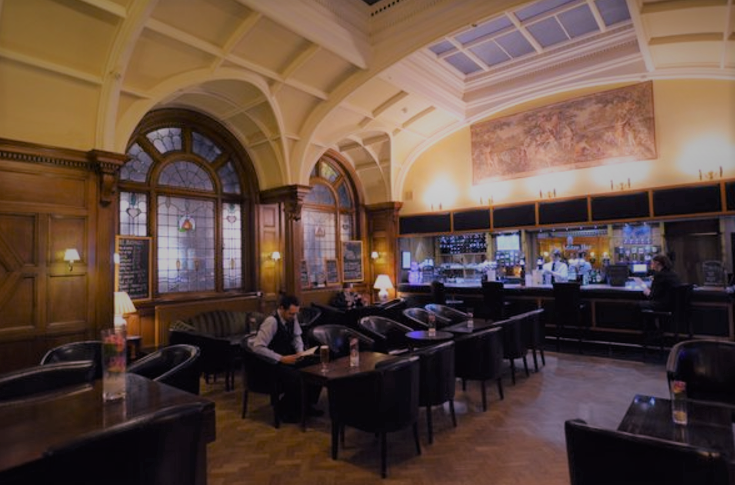 The hotel does however have a nice bar area (above). This is open all night and provided us with a great place to meet up and have a drink outside of the drab rooms!
Another highlight is the indoor pool. As a water lover,  I couldn't resist taking a dip. Although a nice place to relax, and a good selling point for family's, the pool area was also run down and in need of a good spring clean!
---
Price –
A standard single room, with breakfast, cost £53 per night. Which is pretty darn expensive for what you get…
♦♦♦
So, would I stay here again? To be honest I don't think I'll be returning to Carlisle as the whole town left me feeling underwhelmed! And even if I did I'm not sure I'd stay in the Crown and Mitre again…
Although its location is fantastic, especially if you're attending a service/ceremony at the cathedral, I simply don't feel like the room/service you receive is worth the money! As such, if I ever do return to Carlisle I will probably opt to stay in the more expensive, but arguably more comfortable Premier Inn….This to me is a shame as the hotel has the potential to actually be something quite special!
DISCLAIMER – I do not own any photos in this post, all are taken from the Crown and Mitre website  
[blog_subscription_form]