Easyjet Airlines operates budget flights across Europe and Northern Africa, carrying around 73 million travellers a year! What's more, it's an airline that I myself have flown with countless times. That so, I've decided to share with you my thoughts after travelling with them again this summer to Corsica!
♦♦♦
Before delving into the nitty-gritty of my 'Easyjet flight review' I thought it worth mentioning that the Easyjet check in at Gatwick Airport (UK) has a new system whereby you check your bags in by yourself.
Although initially slightly confusing and stressful, the new systems are much quicker, meaning that there were no queues to check in. This was a welcomed change compared to the hours of waiting that we normally expect at check-in desks!
In this way, its a system I hold to see in more airports in the near future…
---
Boarding Our Easyjet flight 
Anyway, on to the actual Easyjet flight review and the first matter of discussion: boarding.
To be honest I was expecting the worse here because my previous boarding experiences with Easyjet have been a free-for-all with everyone clambering to get to the front of the line so they can claim the best seats.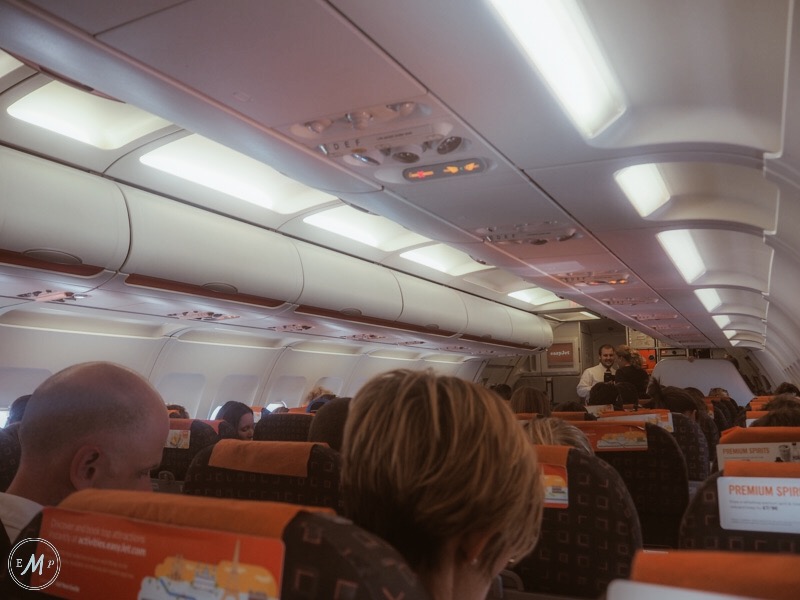 To some extent, this issues has been resolved as the EasyJet seat plan now allows you to choose your seat when buying tickets. Obviously, as it's a budget airline there is a price involved: which varies from £3-£12 depending on the seats. This said the price is certainly worth it to avoid the chaos of queueing!
However, if you are travelling with a carry-on case, the fight to get to the front of the line remains in the sense that the airline will often take such bags during boarding and place them in the hold.
Consequently, to avoid the hassle of waiting at baggage reclaim you still should aim to get to the gate and in line as earlier as possible (if you're travelling with a carry-on case) to increase the chances of keeping your bag with you.
In addition to this, one thing that slightly annoyed me was how strict Easyjet were about us only having one bag for hand language per person. They were so caught up on this that they made sure we could put our small handbags into our carry on cases before they allowed us through the tunnel to board.
In some ways, this makes sense, as they state very clearly that you are only allowed one bag. Plus I understand that overhead space is tight! None the less it did seem a bit ridiculous to make everyone shove their handbags into their cases for people to then take them back out again once around the corner! :/
---
Easyjet flight experience –
Anyway, I'm rambling so let's move onto how the actual travelling with Easyjet was.
It didn't begin well as the pilot missed our taxi slot. This meant we had to wait 20 minutes on the plane before taking off. In my experience flying with budget airlines, small delays like this are pretty common!
However, thankfully, I can't remember the last time I suffered serious delays/cancellations with Easyjet. Whatsmore, thanks to headwinds, despite the 20 minute set back we actually made it to Corsica on time.
As for comfort on the flight, the new prebooking system meant my dad managed to secure us extra leg room seats. Being quite tall, I normally can't cross my legs on budget flights and have the table down at the same time – first world problems I know! The extra legroom, therefore, was a blessing and allowed amble space, thus making the flight very comfortable indeed.
---
Easyjet customer service – 
The crew on our flight were lovely. Although I have yet to encounter unkind cabin crew! After all, it is literally in their job description to be overly nice. 😉
One thing that did make me laugh however was the fact that during the flight accountment, the attendant forgot the name of the airport we were travelling too…  Thankfully he was not the one flying the plane and managed to play it off using a cringy joke.
As always the snacks were expensive, I mean £1.80 for a mini coke?? They're having a laugh! In this way, I find it best to stock up on snacks in duty-free. However, I was tempted by some olives which helped to get me in the holiday mood. 😉
♦♦♦
I'll conclude my Easyjet flight review with an answer to the question of: is Easyjet a good airline? My experience of flying to Corsica with them was very Pleasent with only a few minor hiccups. This leads me to say that the company is a well-oiled machine that I would definitely recommend flying with!
Nevertheless, I am intrigued to try out some of the newer budget airlines that have begun operating in Europe such as Jet 2 to see how they compare….
Book your flights with Easyjet on their webstie.
Have you travelled with EasyJet? Then I'd love to here your expereinces with the airline in the comments below. 🙂 
PIN FOR LATER: