Out of all the places visited on my 'All American Road Trip', Yosemite was in another league! I have never been so instantly over come by beauty in my life. It truly is one of 'Earths Magical Places'.
'Tunnel View'
Driving to Yosemite from San Francisco…
(Check out my post on the city: San Francisco – Day One and San Francisco Day Two)
Meant, that we entered the national park on its west side. On this route, you emerge through a concrete tunnel to an opening in the trees which offers a breathtaking first look at the National Park.
Easily accessible parking allows you to pull over and fully take in the picturesque view of Yosemite valley. Which, is magnificently framed by the parks rock formations rising up in the background.

Yosemite Valley 
The valley is just as (if not more) beautiful than the mountain tops. The pristine lush, green meadows are a sight to behold. Further, the many River's and Lakes in the park, present the clearest water I've ever seen in my life. Perfect for a refreshing dip after a long days hike in the sun!
Surrounded by towering ancient trees, I was overwhelmed by the feeling of being at peace.
In this way, Yosemite is a great place to get away to. Limited phone signal and no WiFi, allows you to step into the evergreen paradise and escape the worries of the Modern age. Trust me, you'll feel so uplifted by the crisp air and stunning surroundings that the urge to check social media is diminished!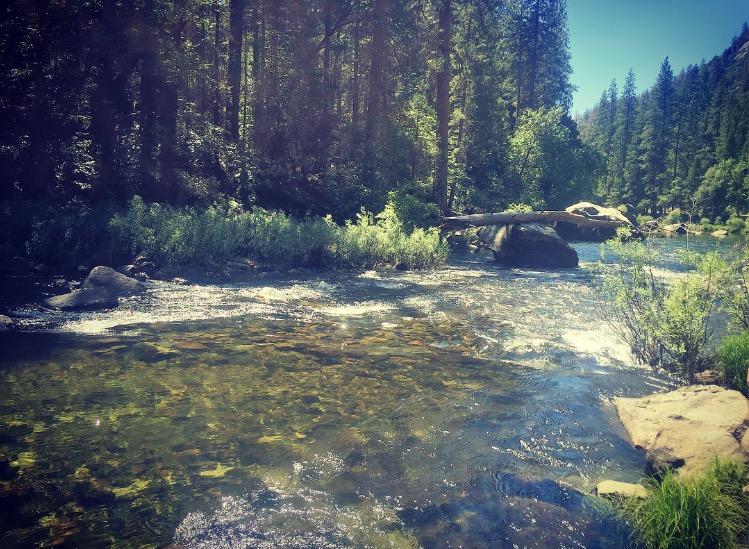 Glacier Point 
You can drive from Yosemite valley to Glacier point road.
(TOP TIP – we learnt the hard way that if you want to find a space in the car park at glacier point, get there early! You'll be lucky to find a space in the afternoon!)
This is where our first excursion in the park took us.
After a short 10 minute walk from the car park, along a surprisingly well maintained tarmacked path, you reach Glacier point. The beauty of which, is profound. I felt close to heaven, gazing in amazement at the spectacular view. Yosemite truly is one of god's master pieces.
A talking point, is the famous over hanging rock which, has been the centre of tourist snaps for over 100 years. Sadly, the rock is now fenced off – So no more dicing with death for the perfect picture. Although… It is only a small and very low fence so…
Sentinel Dome and Taft Point
From Glacier point, we headed to the more secluded hikes of Sentinel Dome and Taft Point. With limited time, these were a great way to get a taste of hiking in the park while also being short enough (taking about an hour and a half each) so that we could explore different areas of the park in the afternoon.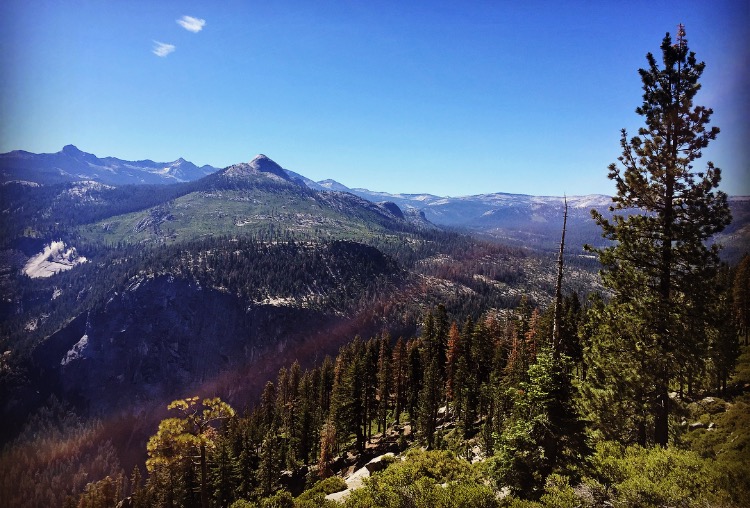 Half dome 
Reaching the top of Sentinel Dome, provided a magnification view of the parks most famous formation – Half Dome.
This iconic 'rock' is certainly a talking point. it's gigantic structure seemingly dwarf's all the rest in the park – it's truly impressive and photographs do not seem to do it justice.
Yosemite falls
Back down in Yosemite Valley, and just a short walk from Yosemite village, the last 'sight' we visited in the park were the lower falls:
Fantastic as it was, I would have liked to have visited some of the more sucluded falls because, they were somewhat overcrowded… Not something you can say about the rest of the park however!
♦♦♦
We spent three magical days exploring Yosemite but, only scratched the surface of what the parks got to offer.
The Jaw-dropping scenery in this post, is also accompanied by astounding wild life. Which, if given more time, I would have loved to have seen… Especially bears!
On top of this, a change in seasons brings a whole new magic to the park in the form of winter snows…
Thus, with over 3,027 km² of park land, you could spend years in Yosemite and still discover untouched vistas and new stunning views!
As a result, the only answer is to plan another trip to the magnificent national park! But, with so many of Earths other Magical Places to be seen, it may to have wait a while…. (heart breaks into a million pieces)
Been to Yosemite yourself? Or, have a comment on my post? I'd love to hear from you so feel free to comment below!