Deciding where to set up camp is one of the toughest decision you have to make when planning a trip. Unfortunately, South East Bali is no exception to this and has many popular regions to choose from.
During my trip, I stayed in both Sanur and Seminyak (two sought-after destinations). Below, I've compared the two locations in a bid to help you tackle the internal struggle of choosing where to stay. 🙂
.♦♦♦
Why not Kuta? –   
I thought I'd quickly mention why I (and you) shouldn't even consider staying in Kuta – perhaps the regions best-known province.
I ruled out staying here after reading several posts from fellow Travel Bloggers (I've linked my favourite below) about how Kuta has lost any Balinese authenticity, that it's dirty and basically filled with Australian teens 'on the piss':
---
Location –
Sanur and Seminyak are both situated 20-minutes from the airport, meaning each province is easily accessible!
Sanur sits South East meaning it's marginally closer to Ubud. Meanwhile, Seminyak (which is slightly further north) is better situated for day trips to Jimbaran. Thus, it can easily be stated that the locations of the regions, in terms of their proximity to other points of interest, are pretty on par!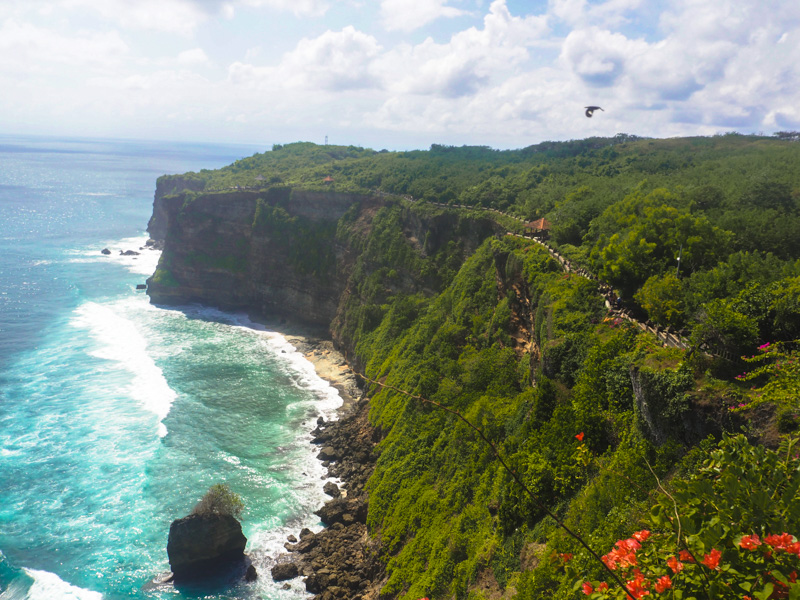 This said, Bali's roads are famed for being chock-a-blocked during peak times, this fact may make Sanur's location slightly superior as there's often less traffic in this quieter province!
---
Price of Accommodation –
So where is it cheaper to stay? Sanur or Seminyak?
During my research, I noticed that hotel prices in Seminyak appear to be a little steeper than Sanur. This said accommodation prices in Bali vary depending on what you're looking for!
For example, Sanur was actually home to Bali's first ever 'Beach Resort' thus, it has many luxury hotels on it's beachfront that are actually more expensive than the big resorts in Seminyak. However, if you go further inland, you'll get a lot more for your money in Sanur than you would in the bustling heart of Seminyak.
Likewise, if travelling in a group, Villas are a great option in both areas! They tend to be more out of the way but, you really can't beat the prices! It work's out much cheaper to rent a villa than pay for hotel rooms in both locations!
---
Food/nightlife – 
Sanur is known for being laid back and low key thus, it doesn't have a great nightlife. Aside from some beach bars, there's not much in the way of clubs/drinking venues.
However, what it lacks in quenching your first, Sanur more than makes up for in terms of filling your stomach! The large majority of restaurants in Sanur are 'Warungs' meaning they serve delicious local food – providing a traditional Balinese experience.
Seminyak on the other hand, couldn't be more different! Swamped at night, you'll find plenty of bars and clubs which stay open late. Meanwhile, 'Warungs' are hard to come by and westernised restaurants hold rank…
---
Authenticity –
This leads nicely onto the 'authenticity' of the two areas. As I stated above, Sanur is pretty quiet! This has enabled the region to maintain a certain charm. In other words, you can relax in a five-star beach resort and then walk two minutes down the road to be immersed in local Balinese life.
Comparatively, western influences are clear to see in Seminyak, with most restaurant's and shops catering towards tourists needs and wants. More than this, the main streets are always packed with fellow holidaymakers – you'll be pushed to see any Balinese who are not working!
This said (to a certain degree) you can still get a sense of Balinese culture in Seminyak. For example, if you wander off the main streets, local 'Warungs' can be found, you just have to know where to look…
---
Beach –
If you follow Earth's Magical Places, you'll be aware that I have already made a post about Sanur Beach (Read here). To summarise, the main section of the beach was dirty and filled with litter! However, I've since heard that further along the beach (which stretches 7km) there are some nicer sections of sand to relax on!
Seminyak Beach also has a reputation for being dirty! However, on my visit, it was actually pretty clean… Either way, it's not one for swimming due to its big waves and strong currents. However, this does make it a surfers paradise!
Comparatively, Sanur is protected by a reef about 100m offshore. This means that it's more like a lagoon with calm water… Thus I'd say more family friendly!
Both beaches have a good selection of bars and restaurants along the shoreline as well as loungers to rent (although they tended to be expensive).
If I had to choose, I'd say Sanur Beach slightly takes the edge! But, to be honest, if you're looking for a beach paradise you're better off staying on one of Indonesia's more remote islands like the Gilis. 🙂
READ MY GUIDE TO THE GILI ISLANDS HERE 
♦♦♦
Overall, I'd say that choosing between Sanur and Seminyak comes down to personal preference: if you're looking for a relaxed, charming and authentic location, Sanur's your spot! But, if you're more into nightlife, surfing and prefer somewhere more lively then Seminyak's perfect….
Want a mix of the two? Then do as I did and stay for several nights in both areas! Plus, (as I've already stated) Bali's a small island and taxis are cheap as chips. This means that even if you spend your whole trip in one area, you can venture into other regions for day trips, dinners out or even trips to the beach.
Have you stayed in either Sanur or Seminyak? Planning a trip to Bali? Let me know if you any questions or thoughts on this post in the comments below:
Subscribe to Blog via Email
PIN FOR LATER: