If you've been following 'Earths Magical Places' on social media (links below) you'll be aware that I've recently been roaming around Bali and its surrounding islands!
My first port of call on this adventure was Sanur; a more relaxed province of Denpasar, away from the party scenes of Kuta and Seminyak… I decided some time to adjust on the quiet side of town would be needed before I jumped into the craziness of these better known regions!
None the less, I was still keen to get out and explore! Thus, after a morning of adjusting to the humidity of Bali…. Which, let me tell you is intense AF! I decided to head down to Sanur beach. However, when I reached the beach, my heart sank at what I saw…
♦♦♦
Not so golden sand –
After months of envious scrolling through Instagram pictures of Bali's beach's I'd expected to be met with white sand, palm tress and a local selling freshly picked coconuts.
But, this was far from the case on Sanur Beach: the sand was almost grey and rough as hell on my feet, it literally felt like walking on glass! Can't say I've ever experienced sand quite like it! I assumed it had something to do with how big the grains of sand were but still, far from what I'd dreamed of!
---
Litter Galore –
Further, I honest to god have never seen such a dirty beach, I could kick myself for not taking a photo of the rubbish… Instead I'll wait here while you google image 'Sanur Beach rubbish' (I've even linked it for you – aren't I nice).
---
A Beach of two Halves –
Perhaps what surprised me most about the amount of rubbish, was the fact that I'd had a quick look on TripAdvisor before venturing to the beach…. Most reviews I read were glowing and the beach was rated 4 stars!
At first, I couldn't quite understand how anyone could have anything nice to say… I even started to doubt the trusty app! But, as I wandered to what I thought was the end of the beach, all became clear…
As I peeped over an unruly hedge (which clearly marked the end of this appalling stretch of sand) I was surprised to see that the beach actually continued further along… Being the adventurer that I am 😉 I navigated my way around the bush, instantly finding myself in another world…
I was met by a well-maintained stone path, soft golden sand (which I later discovered was imported and raked daily by hotel staff) and not a piece of litter in sight!
Now all the good reviews made sense! It was clear that most people found themselves on this 'side' of the beach which, was certainly worth an Instagram or two. I too was back in my element! Finding an 'organic cafe' whereby I could set up my camera for a sunset time-lapse accompanied by a 'health bowl' and cocktail…
From here, it would have been easy to overlook the section of beach I'd first encountered! But, part of me was constantly nagged by guilt… I was very well aware that the only reason the second half of the beach was so perfectly manicured was due to the big resorts which backed onto it!
However, said resorts seemed to have little interest in cleaning up the whole beach even though they'd surely benefit from to not having mountains of litter literally meters away? Especially since it was most likely their 'guests' who left continue to leave the majority of the litter in the first place?!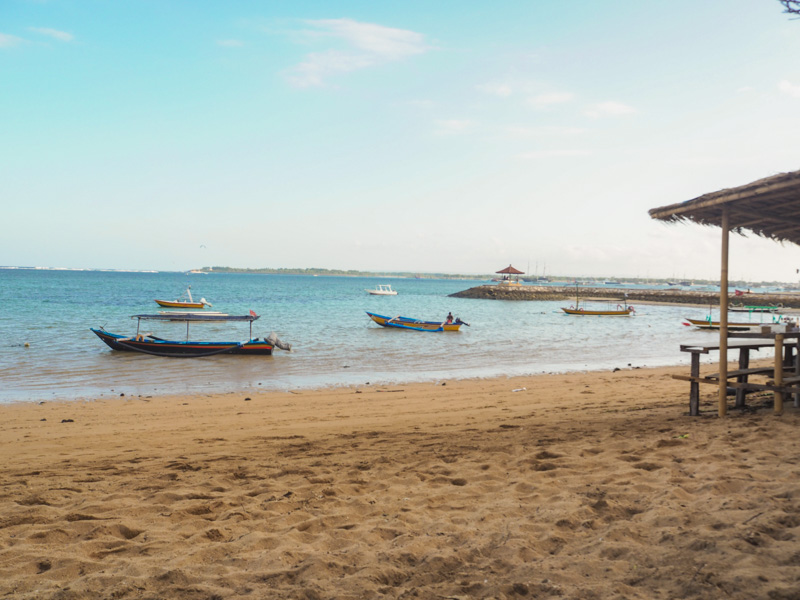 It just seems that the big hotels are out for themselves and couldn't give a damn about the rest of their beautiful country! Meanwhile, it sadly seems fated that every destination us foreigner's find appealing will buckle under the weight of tourism, leaving the locals with poor 'public spaces' (when I'm sure they once had whole, untouched beaches to themselves)…
For this reason, I made a point of not returning to the resort fronted beach for the rest of my time in Sanur!
♦♦♦
After writing the body of this post on the first few days of my trip, I soon discovered that the whole of Bali appears to have quite a bad litter problem… I'd be interested to know in the comments below whether you think this is simply due to the countries infrastructure or the influx of tourists in recent years!?
DISCLAIMER:  I'm not trying to be a Negative Nelly in this post (excuse the odd English saying) But, I always strive to be as honest as possible on this blog and if that means shattering a perfect view of Bali, then so be it. But, I'll assure you that there are many positive and wanderlust inspiring posts to come 🙂
[blog_subscription_form]