Berlin is now a city that celebrates creativeness and individualism. However, it was once the power house behind Nazi Germany and later came to represent the height of Cold War Tensions… In other words, it has history oozing out of every street corner.
As modern history intrigues me, I couldn't get on the plane quick enough when the opportunity to visit Berlin came my way, especially since I was studying German History (from 1920 to 1990) for my A-Levels…. How better to learn about the events of this period than visiting the city within which a lot of them occurred.
In this way, when I arrived in Berlin, I put on my walking shoes and set out to visit as many of such locations as I could squeeze into my short, 48 hour trip:
♦♦♦
B
erlin Wall –
My First port of call was none of than the Berlin Wall. The 'East Side Gallery' to be more precise. This is not only the longest remaining section of the wall, but also the largest open air gallery in the world! This is because, in 1990, critically acclaimed artists came together to paint murals on the east side of the infamous wall – providing a stunning visual display.
Standing next to the wall was a really humbling experience! I could certainly appreciate the oppression and hardship East Berliners must have endured… And that's without the mountains of barbwire and patrolling guards which surrounded it during Germany's divide.
Today, the murals make the wall rather less menacing! More than this though, they serve as a poignant message; demonstrating to the world that the now united city of Berlin celebrates freedom and love, no matter peoples beliefs, race or sexual orientation!
They also provide a great Instagram opportunity 😉 – its a win win.
SIDE NOTE: Although very little of Berlin wall still stands, a row of paved cobblestones traces the route it once took. This provides a respectful nod to history, something which I quickly came to learn (and appreciate) is repeated throughout the city.
---
DDR Museum – 
After experiencing the perfection that is German Public transport (London take note) I arrived at the DDR museum. I have to confess that I tend to give museums a wide berth; I'd much rather be out exploring a city than traipsing around stuffy exhibits!
However, recommended by a friend and with a standing as one of the most popular museums in Berlin I made an exception, and I'm very glad I did!
The museum itself is small, and I imagine gets very busy during peak times so I suggest visiting off season if you can!
Although small, its packed with informative and interactive displays on the lives of East Berliners. This provides a welcome relief from most museum's where everything is out of reach behind glass.
Highlights for me included a recreated apartment, featuring all the spy gear the government installed into properties to keep an eye on its citizen (creepy right!) and a full-scale Trabant car – which have become synonymous with East Germany.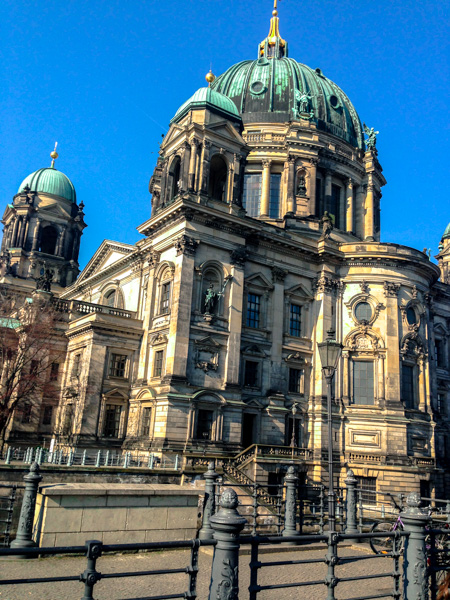 Opposite Berlin Cathedral, the museum is right in the centre of the city meaning its easily accessible. Meanwhile, the price is good (only 8 Euros) and its small enough to fit a full tour into a busy day! Thus, I'd highly recommend a visit.
Visit the Museums website if you want to know more!
---
Brandenburg Gate –
The Brandenburg Gate is one of the most recognisable symbols of Berlin. Built between 1788 and 1791, it was long a key entry point into the city. There's no doubt that the gate is still an impressive structure and one which was lovingly repaired following WW2.
While the Brandenburg Gate itself is a stunning homage to the Prussian empire, unfortunately, for me, the area surrounding the gate (Pariser Platz Square) left little to be desired; it's simply too 'touristy'….
What I mean by this is that the square was overcrowded and lined with shops selling tat like 'I love Berlin' T'shirts and mugs. The areas not great for food either. On my visit, I eventually found a decent cafe, but it was incredibly expensive!
Overall, visit the gate! But I wouldn't waste your time in the square.
---
Checkpoint Charlie –
From Brandenburg Gate, I walked to Check-Point Charlie. This is one thing I absolutely would not recommend!
Originally one of only three crossings between West and East Berlin, the check-point became famous as the only gateway where East Germany allowed Allied diplomats, military personnel and foreign tourists to pass into Berlin's Soviet sector.
Despite this historical importance, today the reconstructed checkpoint has simply been turned into a 'photo opp' for tourists. Considering that many people lost their lives trying to get over the wall I find this rather insensitive. Whats more, its just tacky!
(This said, I have read that the 'Check Point Charlie Museum' is actually quite interesting… Its exhibitions tell the stories of those who tried to escape over the wall and that of families separated either side) – I did not have time to visit myself so check out their website 
---
Holocaust Memorial –
Still on foot, I headed back to Brandenburg Gate and further north to the Holocaust Memorial. There's not much to say on this other than it's truly touching! The towering grey stones block out the rest of the city as you head deeper into the memorial. For that moment all you can do is remember the innocent lives lost. Its one of the best memorials I've ever visited!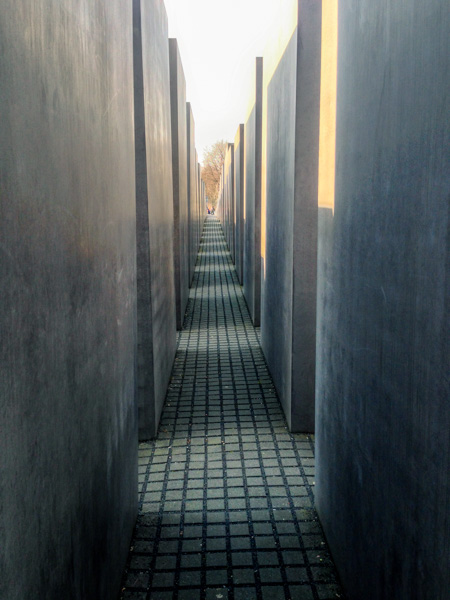 Further, despite my earlier comment that I don't visit museums, Berlin may have converted me because if you visit the memorial, I would highly suggest you take the time to step inside the information centre.
Here you'll find a sort of free museum where visual and audible displays tell the stories of Holocaust victims and their families. Walking through the dark rooms, I simply could not comprehend the pain the Jewish community in Europe endured. I was honestly close to tears listening to survivors speak!
Whats more, the space itself is stunningly and respectfully designed with ample seating so that you can sit and listen to the stories being told through the speakers as well as read testimonies on the wall.
Perhaps not the cheeriest ended to my first day in Berlin! But, I certainly went to bed appreciating life and love more than I did when I woke up that morning…
---
Bebelplatz Square –
My second 24 hours in Berlin began with a quick visit to Bebelplatz square. This Historic square is enclosed by the Kommode Old Library, the architecture of which much reminded me of Oxford Street in London!
Despite this impressive building, the reason many people flock to the square is to see an art insulation (called the 'Library') by Israeli Artist Micha Ullman.
The famous work of art consists of a Sunken glass plate which provides a view into a room, filled with empty bookshelves. This is supposedly meant to symbolise the 20,000 books which were destroyed in the square on May 10th 1933 during the first of the Nazi infamous 'book burnings'.
---
House of the Wannsee Conference –
After a much needed Starbucks Coffee, I was fuelled and ready for a 30-minute drive to Berlin's westernmost borough of Wannsee. This beautiful area is home to many stunning houses. However, one such house infamously held the 'Wannsee conference' where high ranking Nazi officials and Hitler drew up plans for the 'final solution'.
For a requested donation of just 2 Euros, you can enter this beautiful house and read several displays on the history of anti-antisemitism in Germany. The 'museum' also holds the original documents written at the conference and allows you to visit the rooms within which the final phase of the holocaust was planned.
The house itself is a beautiful mansion overlooking a picturesque lake. As such, it seems inconceivable that a plan of such hatred and brutality was drawn up within its walls!
---
Sachsenhausen concentration camp – 
If you only have time for one trip outside of the city limits, I would highly suggest visiting Sachsenhausen Concentration Camp in the small town of Oranienburg.
Construction of this camp began in July 1936 when the SS transferred 50 prisoners to the area. Although remaining relatively small in size, compared other better known camps such as Auschwitz, Sachsenhausen still held over 11,100 Jews by 1945 and thousands more political prisoners mainly from Prague and Poland.
I didn't take any pictures during my visit to the camp out of respect to those who suffered so much within its grounds. It just didn't seem right to take my camera out and start snapping away! (Instead visit the camps website for more information)
I strongly believe in the philosophy that we must remember the past as not to repeat the same mistakes. Thus, even if history is not you thing, listening to how disgracefully innocent people where treated and how little their lives meant to the Nazis, is a truly eye opening experience. It reminded me of what can happen turn if we turn a blind eye to discrimination and unjustifiable hatred.
---
Reichstag –
After an emotional Roller Coaster of a day, I ended my Berlin trip with a quick visit to the historic Reichstag building, which is home to Germany's main legislative body.
With a flight to catch, I did not have time to go up into its glass dome, which offers stunning views of the city (for free might I add) – instead, I simply stood on the front lawn taking in its grandeur and reflecting on my trip 🙂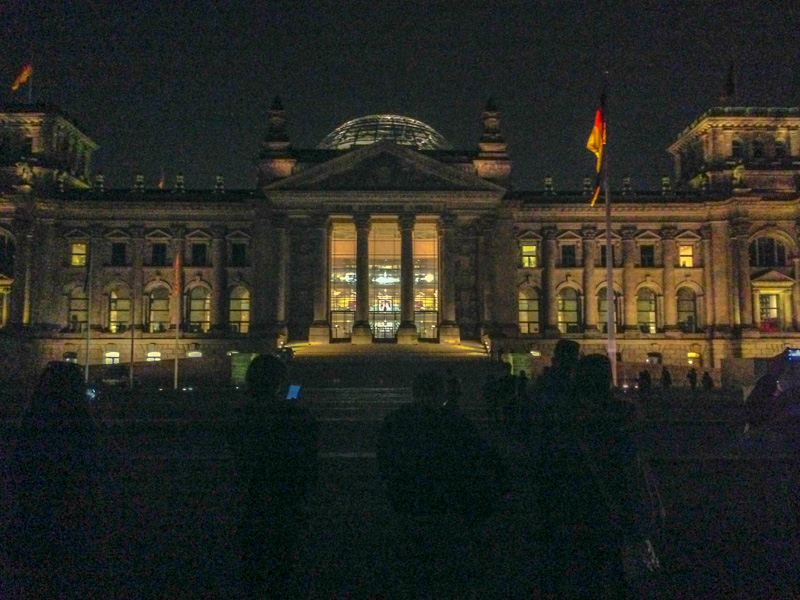 ♦♦♦
One thing I learnt about Berlin is that its massive! I squeezed a lot into my short trip, but visiting mainly historic sites meant that I only scratched the surface of what the modern city's got to offer… This simply means I'll have to return and explore more off the beaten track to get to grips with the true heart of Berlin, what a shame 😉
Planing a trip to Berlin? Visited any of the above sites yourself? or simply have any thoughts on this post? I'd love to hear from you in the comments below