After a relaxing few days in Cambria our road trip continued up the Californian coast. The journey provided enchanting views of the coastline, making the two and a half hour drive a surprisingly enjoyable experience: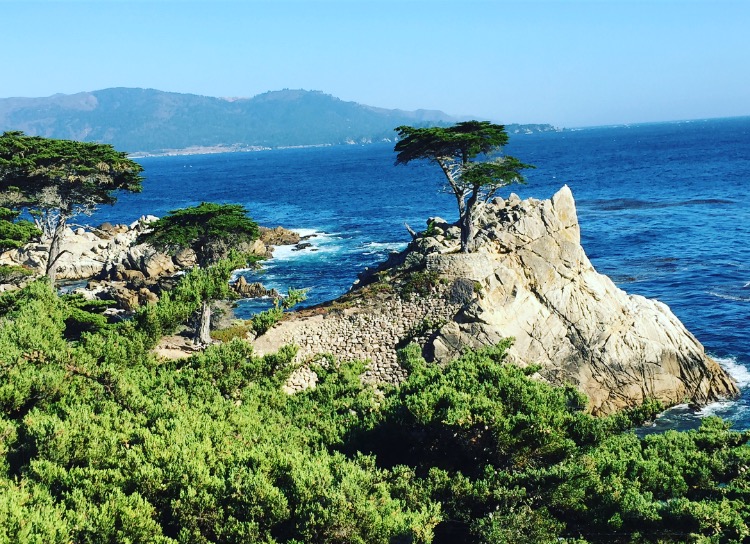 Our destination was Monterey. A traditional fishing town, which offered us a taste of small town America. Walking along the towns pristinely clean streets, it's independent grocery store and chain free restaurants made me feel like I was featuring in an episode of Gilmore Girls.
The towns highlight however is the alluring fisherman's wharf. It's rickety structure is lined with wooden restaurants and shops creating a somewhat delicate appearance. Meanwhile, fairy lights draped overhead and waiters offering a taste of Californians traditional clam chowder instantly makes you feel welcome and at ease.
It was the first time on our trip were I felt as though people were offering genuine customer service rather than the common placed over zealous manner we'd experienced in Hollywood and Santa Monica.
We were spoilt on places to eat but, after reading reviews online, we chose to dine at Cafe Fina. Which, mixes fresh seafood with classical Italian dishes, resulting in food to die for! Made even better by the delightful views from the restaurant: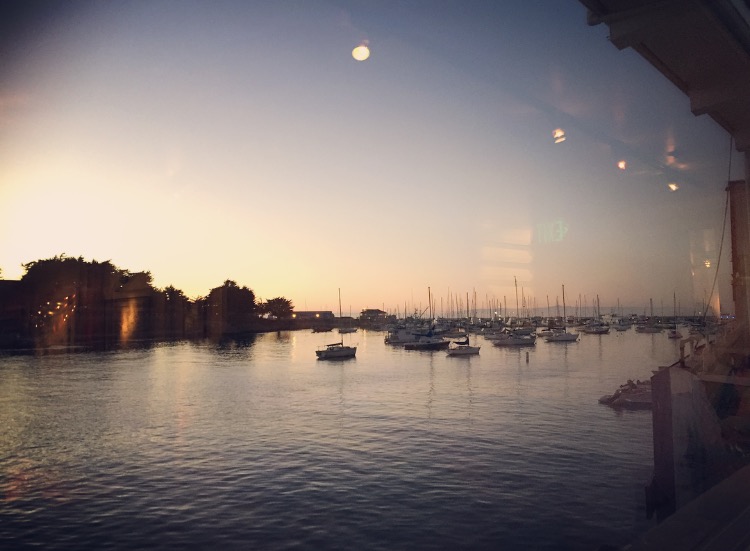 ♦♦♦
The next day we were set for an adventure… we'd booked onto a whale watching tour in the hope of catching a glimpse of marine giants.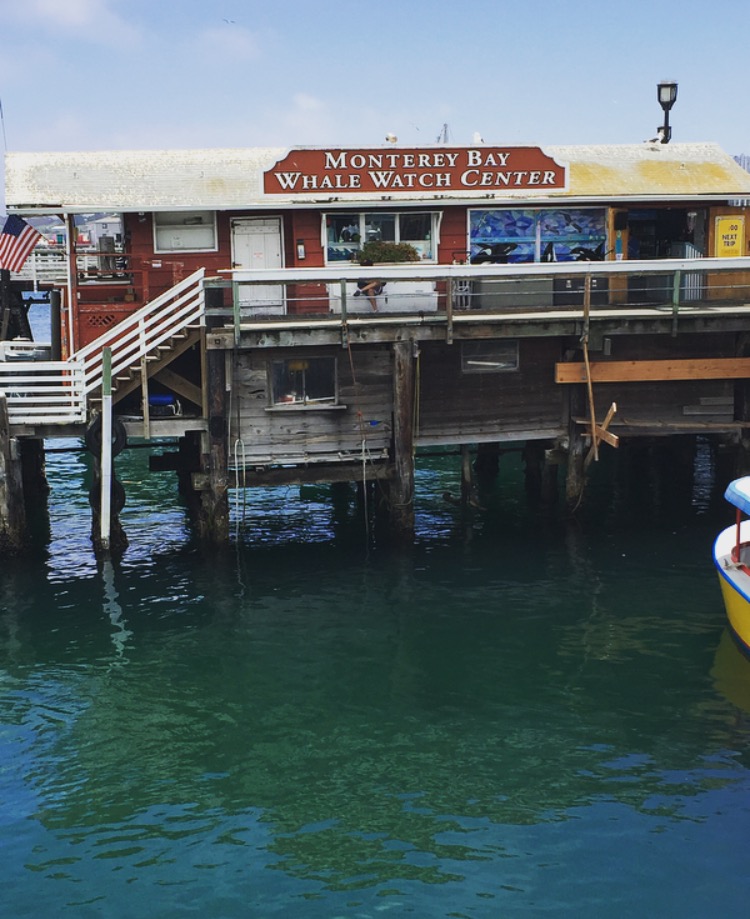 Monterey's waters are the home to several different species including Orcas, Humpbacks and Grey Whales. The time of our trip meant that there was a slim chance of spotting any Killer Whales – a life long dream of mine…
None the less, I was still massively excited. The crew did warn us however that due to recent bad weather, the sea would be extremely rough. They were not wrong!
I've been on quite a few boat trips in my time but, this was in a different league and as a result I spent most the trip staring at the horizon trying not to throw up.
Fortunately and in fact surprisingly quickly (after only about 25 minutes on the boat), I was distracted from the sea sickness when the very knowledgeable crew spotted a beautiful grey whale! Whats more, she had a calf with her.  It was truly magical to see these giants in the wild. We didn't get to see any behaviour such as breaching, as for some reason this is largely performed by male whales. It was still a breath taking experience and one I'll never forget.
After about an hour of following the pair, at a respectable distance, the crew stated that they normally move into deeper waters to find Humpbacks.
However, due to the bad weather our trip instead moved in land. The calmer waters offered a welcome relief and despite not getting the opportunity to spot humpbacks, being closer to the shore we were instead able to catch glimpses of other marine mammals including adorable sea otters and of course Californian sea lions.
♦♦♦
Planing your own marine adventure? Seen Whales yourselves? Have any opinions on Monterey or suggestions on places for me to go next? Feel free to comment at the bottom of the page, I'd love to hear from you!
Check out the rest of my American Road Trip