Continuing with my string of posts about Corsica, France, I want to share with you the best things to do in and around the town of Porto Vecchio, my families base for our two-week trip to the island.
I have to say that my mum made an excellent choice opting for a villa just outside Porto Vecchio because I quickly learnt that the town is charming and has an abundance of character.
More than this, although Porto Vecchio is located on the islands southern coast (meaning it has numerous pristine beaches to enjoy) a quick drive inland will alter the landscape into one that is dominated by towering pine trees and mountains.
These conflicting landscapes not only make Porto Vecchio an extremely magical place to visit but also creates a lot of things to do:
♦♦♦
1) Explore the Town –
The first thing on my list of 'Things to do in Porto Vecchio, Corsica' may seem obvious, but you'd be a fool to stay in/around Porto Vecchio without taking time to appreciate the town itself.
Up in the hills, the heart of Porto Vecchio is a maze of adorable stone streets, which are filled with boutique shops selling anything from clothes to homeware.  Meanwhile, there are countless Bakery's, Gelato stores and restaurants in the centre of town that are bound to get your taste buds tingling.
In addition to this, Porto Vecchio actually extends down the hillside into a small harbour area, which has a slightly more modern vibe than the rest of the town. Here too you'll find several waterfront restaurants/bars to enjoy.
---
2) Head To The Beach –
As I've already briefly mentioned, there are plenty of beautiful beaches near Porto Vecchio whereby you can relax and take in the sunshine. The top two 'Porto Vecchio Beaches' that I'd recommend are:
Plage de Palombaggia –
Voted one of the best beaches in Corsica on Trip Advisor, 'Plage de Palombaggia' is certainly beautiful! For one, it has some of the clearest water I've ever seen!
However thanks to this reputation, the beach can get pretty crowded. None the less, it's still worth a visit because its beauty far out weights any cons brought by the crowds.
More than this, you'll still find plenty of sun loungers to rent on the beach and its popularity actually brings some benefits as it means there's a beach hut which offers watersports such as paddle boarding and Jet Ski Hire.
This said if you do want to try and avoid the crowds, you can head to the beaches 'secret cove'… I would like to point out at this stage that this is not an official name but one I creatively thought of to describe a spot on the beach that I found. 😉
If you walk to the far left side of the beach, the sand will narrow and be replaced by rocks. If you then paddle through the shallow water here and around the back of said rocks, you will reach the 'secret cove'.  Admittedly, it is a bit of a walk to reach, but this difficulty brings pristine sand, tranquillity, calm seas and the perfect spot for snorkelling!
Santa Giulia Beach –
Slightly further along the coast lies 'Santa Giulia Beach'. It is actually pretty similar to Palombaggia in the sense that it offers watersports and has breathtakingly clear water. For this reason, I can't say which out of them is my favourite as I found them both to be amazing.
However, I would say that Santa Giulia is was a lot quieter and more relaxed. Also, there's a particularly good cocktail bar right on the waterfront which could tip the balance slightly in its favour. 😉
---
3) Drive into the island interior –
Perhaps my top thing to do from Porto Vecchio is hire a car and drive into the islands interior. This is because you'll see that Corsica is more than just beaches and sea. In fact, two-thirds of the island's territory is made up of spectacular granite mountains and vast forests which are tied together by numerous lakes, rivers and waterfalls.
During my visit, we drove a simple loop up through the mountains and back along back the coast (a journey which took about 4hours). It was simply an amazing experience, largely because I had not expected such scenery to greet me on such a tiny and often overlooked island. I actually lost count of the number of times we pulled over to fully take in the view!
---
4) Tackle a High Ropes Course –
The scenery which makes up Corsica's interior also creates a paradise for sports enthusiasts. For example, there is a seemingly endless choice of trails to explore. However, my dad and I opted for something a little more spine-tingling…  Xtreme Suds High Ropes Course. 
A short drive from Porto Vecchio (and yet right in the heart of the forest) this high ropes course is similar to ones found on the French mainland, it's just slightly more extreme… They were not kidding with the name!
One of the courses actually takes you out of the trees and up a huge rock face, a climb which also provides amazing views back down into the valley. Of course, you then get to Zip-Line the 60 or so meters back down!
The park is definitely a fun way to spend an afternoon, as each course is slightly different meaning things are kept interesting. Adding to this, tickets are a very reasonable price – only around €20 for an adult.
---
5) Go Canyoning – 
If heights aren't your thing but you're still keen to explore the islands interior, then another activity that might take you fancy is Canyoning. Thanks to the islands many rivers and waterfalls there are several different companies that operate exciting (and presumably heart-stopping) canyoning tours from Porto Vecchio.
I did not personally take any such tours because if I'm honest the rope climbing took a lot out of me… Who knew your arms could ache so much! 😉 But it looks like a fabulous experience and something I'd love to do if I ever return.
---
6) Take A Boat Trip –
My next top thing to do in Porto Vecchio is to take a boat tour as the amazing waters around Southern Corsica will fool you into thinking you're somewhere in the tropics:
Hiring a boat is something my family tries to do on most our trips since I'm pretty such that my dad is part fish. Sadly, unlike in most places in Europe, you don't seem to be able to hire your own boat from Porto Vecchio. Whats more, the companies that offer driven tours from the harbour all seem pretty expensive.
Thankfully, however, after a bit of looking around, we spotted Croisiere Exclusive and choose to join their 'Circuit Dentente' tour for €60 – which although still a little pricey, was far cheaper than any of the other tours! Our driver for the afternoon took us to some amazing spots! But more than this, he was simply the nicest guy, who even provided homemade Corsican Biscuits and a cocktail on board.
---
7) Visit Bonifacio –
Although a bit further away from Porto Vecchio than the other things on my list, if you have access to a car, you should not think twice about driving to the medieval town of Bonifacio. Bursting with history and beautiful views, Bonifacio is not only the oldest town in Corsica but arguably the islands most popular.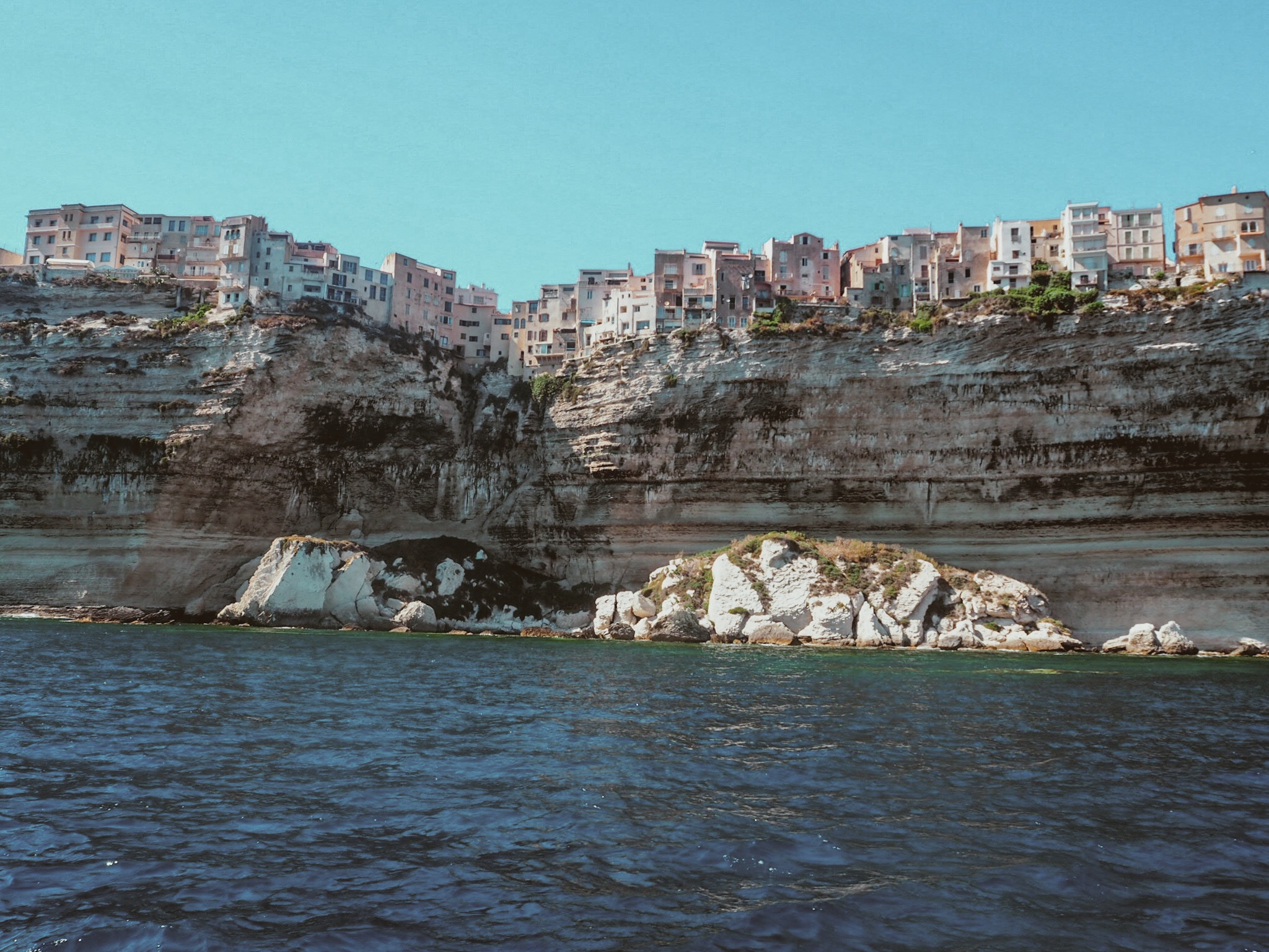 Read my Ultimate Guide to Bonifacio for more information!
♦♦♦
So there you have it my 7 top things to do in Porto Vecchio, Corsica which, to be honest, may be my favourite destination of 2017.  🙂
I've you've been to Porto Vecchio yourself and have any suggestions of other tops things to do, let me know in the comments below! 
Subscribe to Earth's Magical Places to receive a notification when my next post – a guide to the best restaurants in Porto Vecchio – is Published!
Subscribe to Blog via Email
PIN FOR LATER: