Before heading to the final destination of my Bali Island Hopping Adventure, Ubud, I decided to take a detour to the island of Lombok. This volcanic and certainly 'magical place', caught my imagination during my time on the Gili Islands.
You can read what up got up to on the Gilis HERE :).
However, with my remaining time in Indonesia limited, I could only squeeze in a quick day trip. In a bid to see as much as possible in this short time I did some a lot of research for 'the best things to do in Lombok'. In this way, I soon compiled an envy inspiring one day travel Itinerary:
♦♦♦
How to Get to Lombok – 
It was only because I was already staying on Gili Trawangan that I was able to visit Lombok on a day trip! Situated just off the islands North West coast, the Gili's are a quick 20-minute boat ride away. Thus, leaving early in the morning, I arrived in Lombok with plenty of time left for exploring.
I organised my 'transfer' to Lombok from my hotel on Gili T: Villa Ombak. However, there are many different companies and locals on the Gilis that offer fares to the island's 'big brother'. In this way, if you're thinking of planning a day trip to Lombok yourself, just ask around. 🙂
SIDE NOTE: It would be near impossible to travel to Lombok, for a day trip, from anywhere other than the Gili Islands (damn our meagre 24 hour days). However, there are plenty of other ways to get to Lombok if you're planning on spending more time on the island. For example, you can take a ferry directly from Bali, or fly into the islands very own international airport. 
---
First Impressions – 
Before touching down in Indonesia I had never even heard of Lombok. If you live in Asia, or are amazing at Geography, you may think me naive. However, I think the islands lack of 'Instagram stardom' simply adds to its appeal. Some even say that Lombok is Bali's: 'unspoilt counterpart'. Less populated than the tourist hotspot, but around the same size, I would have to agree with this statement on first impression:
As soon as I arrived on the island I was blown away by its traditional beauty. From the harbour I watched fisherman hauling in their morning catches on picture perfect beaches, meanwhile (after hopping in a car) the islands landscape quickly changed to that of endless green rice fields and towering peaks. What's more, there wasn't another tourist in sight!
In those first few minutes alone, I knew that my day trip to Lombok was not going to be anywhere near enough time to fulfil my wanderlust for this truly magical place…
---
Top Things to Do in Lombok (on a day trip) – 
Anyway, that's enough rambling for one day! Onto the good stuff: what I managed to squeeze into my day trip to Lombok.
SIDE NOTE: I hired a driver/guide to take me around the island, I'd suggest you do the same. My guide was super passionate, and had so much information to share about Lombok. There's really no better way to get a sense of a destination than by talking to its locals 🙂
1) Traditional Market –
The first port of call on my Lombok day trip itinerary was Ampenan Market, a traditional Asian market selling: fresh veggies, spices, fish and so much more. The market wasn't actually on my original list, but my guide (Nurul) suggested a visit to get a taste of the islands culture… And I'm so glad he did!
Walking round the packed market stalls, I truly felt as though I was 'living like a local'. I listened as Nurul told me about all the alien foods and spices laid out in front of me. Meanwhile, I ducked and weaved between the stands, feeling like a true adventurer in a foreign land. This was helped by the fact that the market clearly didn't get many western visitors. In other words, I did get a few odd looks from the locals and stall owners. None the less, I felt very safe, although Nurul did warn me to watch out for pick-pockets.
This said, I would definitely suggest a visit to this little market! It's just a short drive from Lombok's main tourist centre of Senggigi so there's really no excuse not to. 😉
Trek to Tiu Kelep Waterfall –
Without a doubt, one of the best places to visit in Lombok is the Tiu Kelep Waterfall. Located near the small village of Senaru, the waterfall is quite a drive from the islands main towns and accommodation hubs. However, you can't really complain about a journey through Lombok's beautiful landscape!
SIDE NOTE: There's a 10,000 IDR entrance fee to the lush scenic area surrounding the waterfall, but as this is equivalent to less than £1, the trip won't exactly break the bank. 😉
There's actually a second smaller waterfall on the way to Tui Kelep. I was unaware of this fact so got super excited when the path forked and Nurul asked if I wanted to see the Sendang Gile waterfall as well – obviously the answer was yes!
Sendang Gile is located about a 15-minute walk from the sites entrance. All down hill the going is pretty easy, and I was soon feeling like a kid on Christmas morning as I caught a glimpse of this masterpiece by mother nature. Rounding a corner, the full waterfall came into view, it was simply stunning! 1000s of tons of water dropped cleanly and elegantly down a cliff face, so perfectly that it almost appeared man made.
Seeing this waterfall alone would have been enough! But rather than take a break on one of the few tables dotted around its base, I decided to head on-wards to the main sceptical: Tiu Kelep.
This second waterfall is another 30 minute walk and is a bit trickier to reach as stone steps give way to a dirt path. There's also several bridges and rivers to cross, as well as a bit of ambling over rocks. This said, I wouldn't let this put you off! I don't believe the hike is something an averagely fit person would struggle to do.
SIDE NOTE: there's no signage to Tiu Kelep and there are a few different junctions. I was lucky enough to have Nurul with me who knew the way. You can however, hire a guide from the site's entrance. They usually charge 500,000 IDR. Personally, I think this is a little steep and you'd be better of following the crowds or asking others for directions!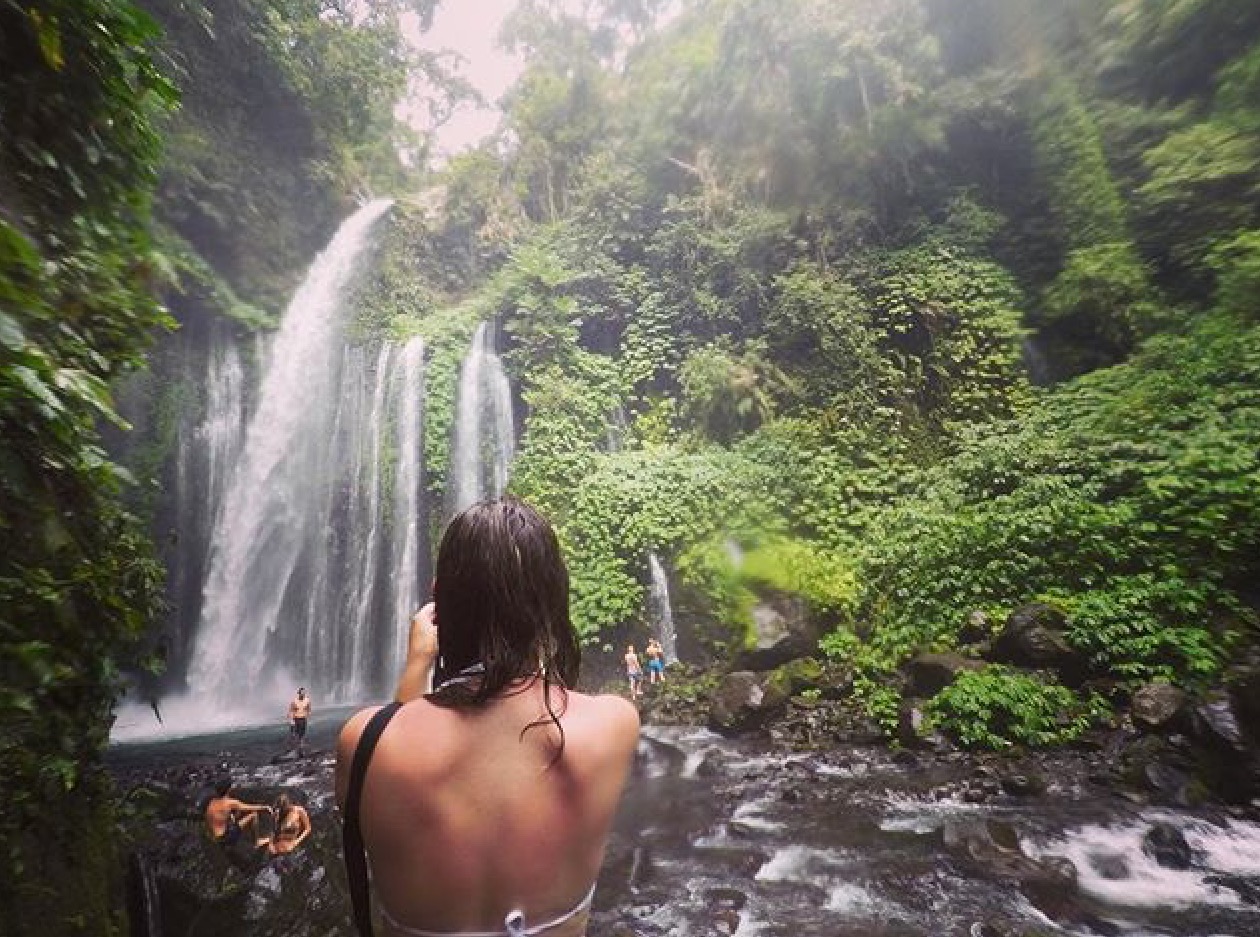 It therefore wasn't long before I reached Tiu Kelep. It Turn's out I wasn't ready for its beauty. Colossal, yet seemingly gentle and all together breath-taking, the waterfall is certainly worth the hike! Whats more, a dip in its freezing clear waters are the perfect way to cool down.
The walk back to civilisation is mainly up hill so a bit of a killer. However I personally loved the walk through the jungle as I was accompanied by the songs of tropical birds and even spotted a monkey or two. 🙂
I spent the majority of my precious time in Lombok (around 3 hours) exploring these two waterfalls. Although I could have seen more of the island if I'd given the hike a miss, I have no regrets as seeing Tiu Kelep was something I'll never forget.
Senaru Traditional Village –
After a mind exploding time at Tiu Kelep waterfall, I didn't have long left of my day trip to Lombok. I did however have time to visit one last place: Senaru Traditional Village, which was only a short drive from the waterfall.
Situated next to the Rinjani Trek Centre, the villages inhabitant's are decedents of the islands indigenous Sasak people (who still make up about 85% of Lombok's population). For hundreds of years these villagers have been seen as the cultural guardians of Mount Rinjani and its surrounding forest.
Only connected to electricity 5 years ago, this Sasak village has maintained an ancient structure with the inhabitants still living in traditional thatched houses. In recent years however they realised that they can capitalise on their rich cultural background. In this way, on entering the village you can step inside the villager's homes, watch them prepare meals even learn ancient crafts such as weaving.
The Sasak culture is fascinating and as a visitor I definitely appreciated learning more about the people of Lombok.
SIDE NOTE: There's no fee to enter the village, although the villagers do ask for a donation when you leave (up to you how much you pay).
♦♦♦
So there you have it, my 'Travel Itinerary for a day trip to Lombok'. Although I had a truly magical day (and one I'm not likely to forget) Lombok was the one place I visited during my Bali Island hopping adventure whereby I felt cheated of time.
Amongst other things, I would have loved to have joined a three day (two nights) trek up the second highest volcano in Indonesia: Mount Rinjani. There's said to be Panoramic views the whole way up, along with hot springs, an exquisite crater lake and the best sunrises in the world.
Lombok also has countless beach's to explore: such as island's famous pink beach, and many more waterfalls…
So basically I only scratched the surface of this magical island on my day trip… Another destination that I will have to return too (the list is never ending).
If you're looking for more information on the top things to do in Lombok check out these articles:
Discover your Indonesia – 21 Fun and Unusual Things To Do In Lombok
Nomad4Ever – Around Lombok In Four Days
Home is where your bag is – 15 Things You Should See In Lombok
PIN FOR LATER: