Wondering how best to spend 7 days in Iceland? The land of fire and ice is awe-inspiringly beautiful with astounding glaciers, waterfalls and black sand beaches just waiting to be discovered. However, with so much to see in this nature lover's paradise, planning the best Iceland itinerary can be overwhelming! That's why (after falling in love with the unique country myself) I've put together this incredible Iceland Itinerary 7 days which includes all the top places to visit in Iceland and more…
Planning Your Iceland Itinerary 7 days –
Before we delve into exactly how to spend your 7 days in Iceland there are a few things you need to know about visiting this gorgeous country:
When To Visit Iceland –
Iceland is wonderful to visit throughout the year. However, each season/month brings unique differences. So, when to visit really depends on what you're hoping to get out of your trip to Iceland.
For example, visiting in summer (June-August) brings the "midnight sun". This means you will have plenty of daylight hours for exploring and often pleasurable weather with a max of 25°C. On the flip side, summer in Iceland tends to bring more crowds.
Moving into May to September, this is the best time of year to visit Iceland if you want to go whale watching. Likewise, whilst the days in winter can be short, with a minimum of 4 hours of daylight in November-January, the snowy landscape is incredibly beautiful. Plus, by visiting Iceland in winter there's a much higher chance of seeing the Northern Lights – which is one of Iceland's biggest attractions.
In this way, I hope you can see that each month in Iceland brings with it different opportunities/challenges. Personally, I chose to visit Iceland for the first time in February and loved it! However, it can get extremely cold, which brings me to the next point…
The Weather in Iceland –
Whatever time of year you choose to visit Iceland it's important to remember that the weather is famously changeable. It's often said that you can "experience four seasons in one day" with bright sunny skies changing into snowstorms within 10 minutes.
Therefore, when packing for your trip to Iceland bringing layers is a must! Especially in winter when temperatures can drop to -20°C. Along with this, I'd highly suggest bringing a waterproof coat, trousers and boots. Even in the summer, you're bound to get up close to waterfalls, which will soak you in seconds!
The Currency In Iceland –
People often assume that the main currency used in Iceland is Euros. Yet in truth, the Icelandic króna (ISK) is the only accepted currency throughout the country. Therefore, I'd suggest exchanging at least a small amount of cash either before you travel to Iceland or at the airport, in case you want to purchase any local souvenirs, tip tour guides etc.
This said, overall, the majority of shops and restaurants in Iceland do now accept payments on most major cards.
Is Iceland Expensive? –
Before travelling to Iceland, the only thing I would hear people talk about is how expensive it is… Compared to most European countries this is very true. When visiting you can expect to pay a premium for food, household goods and especially alcohol. Yet, prices are on par with other Scandinavian countries. Further, I found that it was easier than expected to plan and stick to a budget! I was able to spend on average a maximum of £40 a day.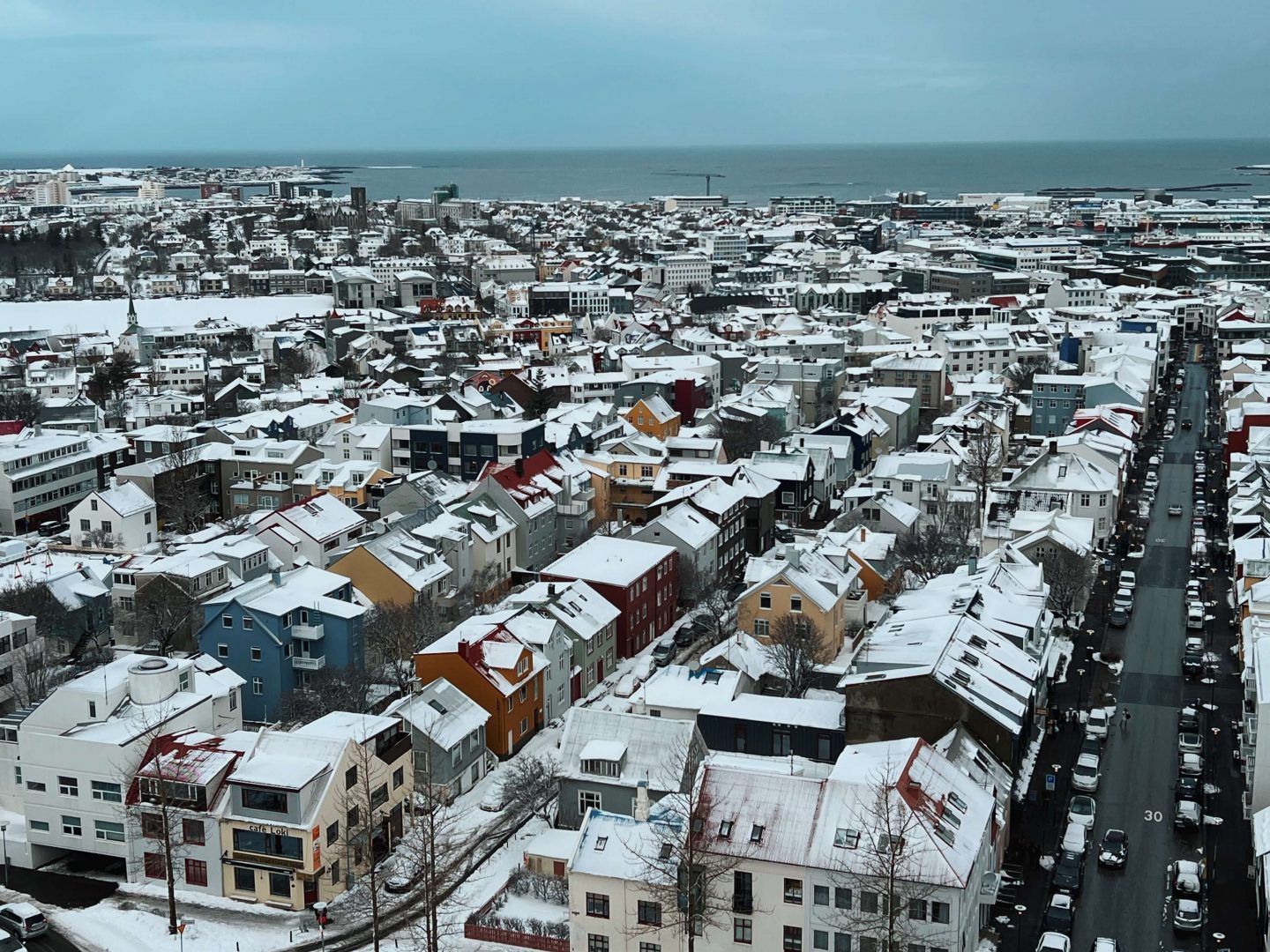 To save money you can: stock up on snacks and sandwiches from Iceland's supermarkets, pack a flask to make your own coffee each morning and purchase alcohol at your departure airport.
Iceland Road Trip (Hiring A Car Vs Tours) –
Finally, you might be wondering how to actually travel around Iceland in 7 days… There are really only two options, the first of which is hiring your own car. This is ideal if you're looking for independence on your trip since you can plan your own route, stops and timings. What's more driving in Iceland is quite straightforward as most attractions are easily found off its main ring road. Yet, driving in Iceland in winter can be dangerous due to the weather, which is something to be wary of.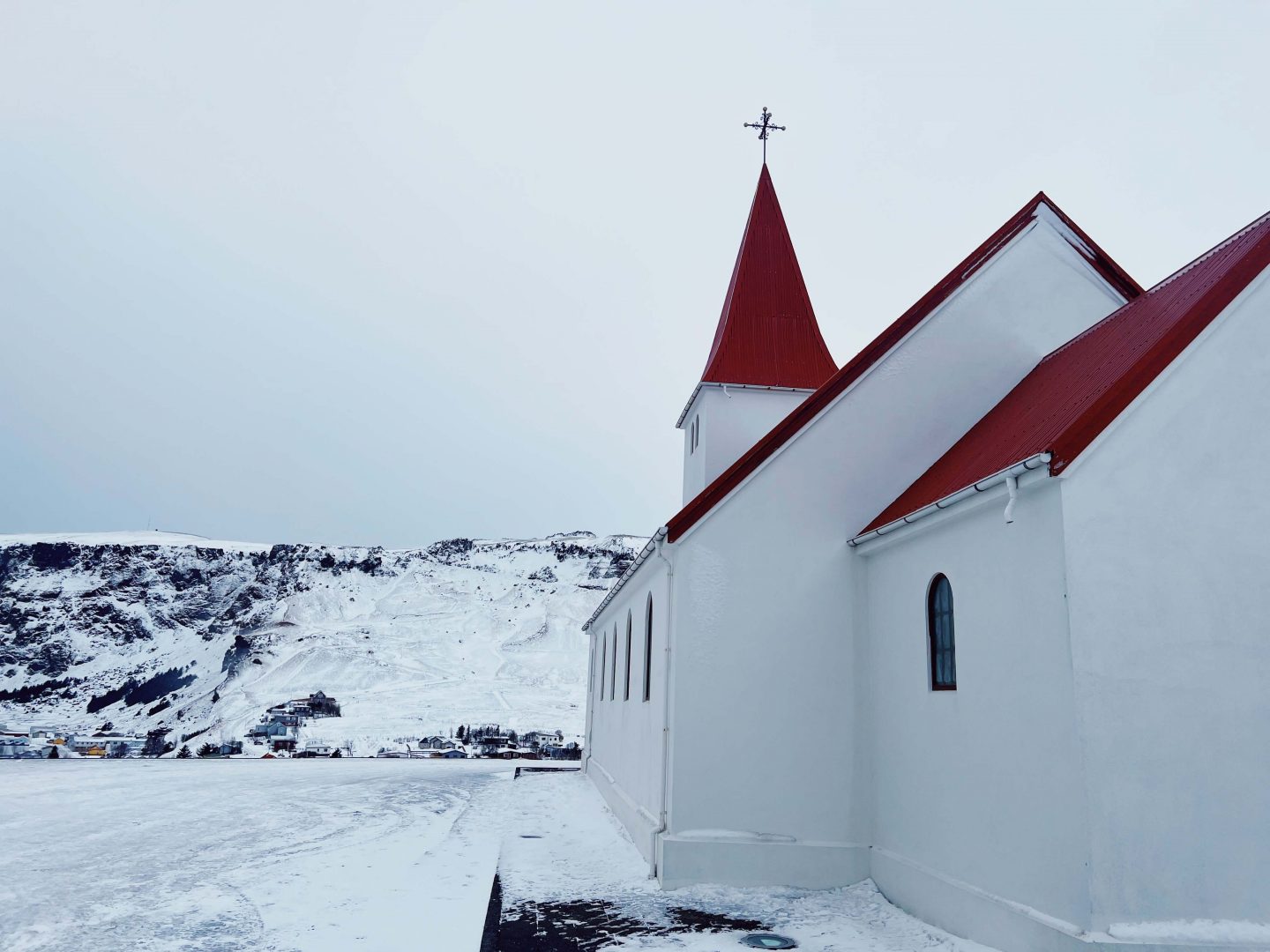 TOP TIP: if you choose to hire a car in Iceland, I highly advise opting for a 4×4 Vehicle. This will give you more confidence to drive in all weather. I actually lost count of the number of small hatchbacks I saw stuck in the snow when visiting in February.
Your other option for travelling around Iceland is to take day trips/tours. With the popularity of Iceland increasing, there are now countless well-rated tours that go to virtually all the must-see attractions. Such tours bring a level of ease as you don't have to worry about driving or booking anything. However, this does come at the sacrifice of enjoying Iceland at your own pace and you may be required to stay in Reykjavík for tour pick-ups.
Iceland Itinerary 7 Days –
Day 1: Explore Reykjavik –
I spent the first of my 7 days in Iceland exploring its capital city of Reykjavik. Most people tend to do the same as the country's main international airport (Keflavik) is only located about 45 minutes to an hour outside of the city.
The time you arrive in Iceland will affect how long you have to explore Reykjavik. Luckily, it's quite compact for a capital city (with only around 250,000 inhabitants). This means all its major sights are within easy walking distance from each other.
TOP TIP: transport from Keflavik airport can be expensive with taxis costing around €60-€80. Therefore, one of the most effective ways to reach the city is via the Flybus. Tickets can be purchased online in advance and the bus conveniently waits just outside the main terminal after each arrival flight lands.
Hallgrimskirkja Church and the Sólfarið (Sun Voyager) sculpture are perhaps the most recognisable symbols of Reykjavik and as such are definitely worth visiting. Alongside this, I'd recommend taking a stroll along Laugavegur. This is the main shopping street in Reykjavik, but also a great place to get a taste of the city's colourful buildings and unique architecture.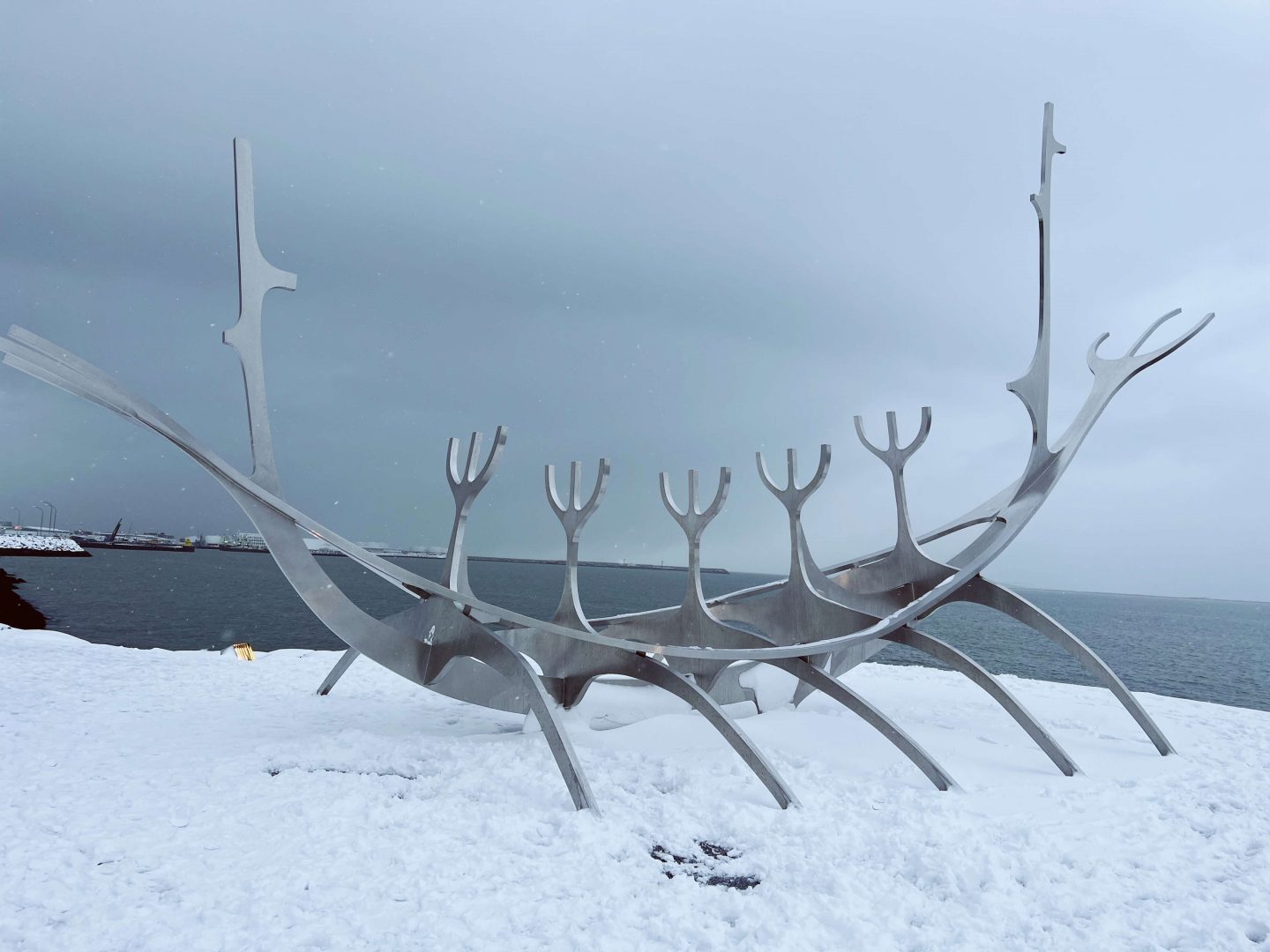 Where To Stay In Reykjavik –
Unfortunately, Reykjavik is one of the most expensive places to stay in Iceland. This said I think staying close to the city centre is a real must if you want to enjoy the best it has to offer. In this way, a comfortable and affordable option I found was the Sunna Guesthouse, which has fantastic views of Hallgrimskirkja Church.
Airbnb is another great option for staying in Reykjavik. For example, I also stayed in a wonderful apartment on Laugavegur street. Fantastic for people-watching, due to panoramic windows, the apartment had a fully equipped kitchen (ideal for making cheaper home-cooked meals), along with convenient self-check-in and a modern interior.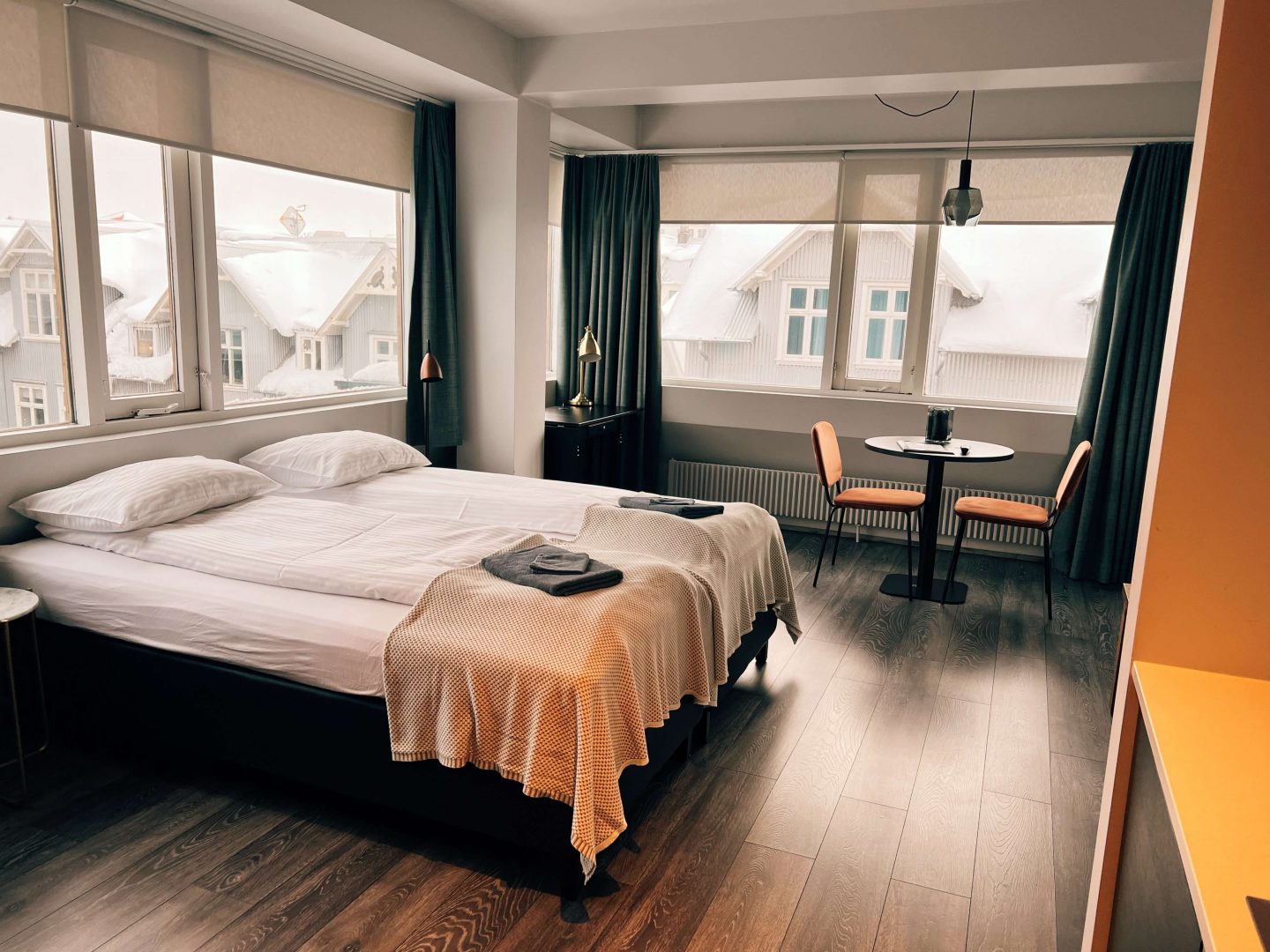 Day 2: Silfa Snorkelling And Fridheimar Farm –
My recommended second day in Iceland centres around a very unique experience… Snorkelling or diving at the Silfra Fissure. Located within Þingvellir National Park (close to Reykjavik), Silfra is the only place in the world where you can swim directly between two tectonic plates. Therefore, it's truly a once in a lifetime experience.
Formed by an earthquake in 1789, the North American and Eurasian tectonic plate boundaries at Silfra are now drifting apart by around 2cm each year. Alongside this, the water that fills the fissure is incredibly clear. You can expect to see for over 100m. Fed via a nearby glacier, it's actually thought to be some of the purest water in the world! So, if you happened to get thirsty whilst swimming, you could simply take a sip.
I arranged my own Silfra snorkelling trip through GetYourGuide. My tour operator: Adventure Vikings were wonderful! They offered swift pick up from Reykjavik and were well equipped with thermal bodysuits and drysuits. These are definitely needed for the icy water which remains 2°C – 4°C year-round. Whilst this may not seem very appealing it wasn't as cold as I'd feared! Plus, visiting in winter actually meant the water was warmer than the outside temperature.
Swimming through the unique environment honestly felt otherworldly and it's an experience I'm unlikely to forget. In this way, whilst time may be limited if you only have one week in Iceland, I think visiting the Silfra Fissure is a must.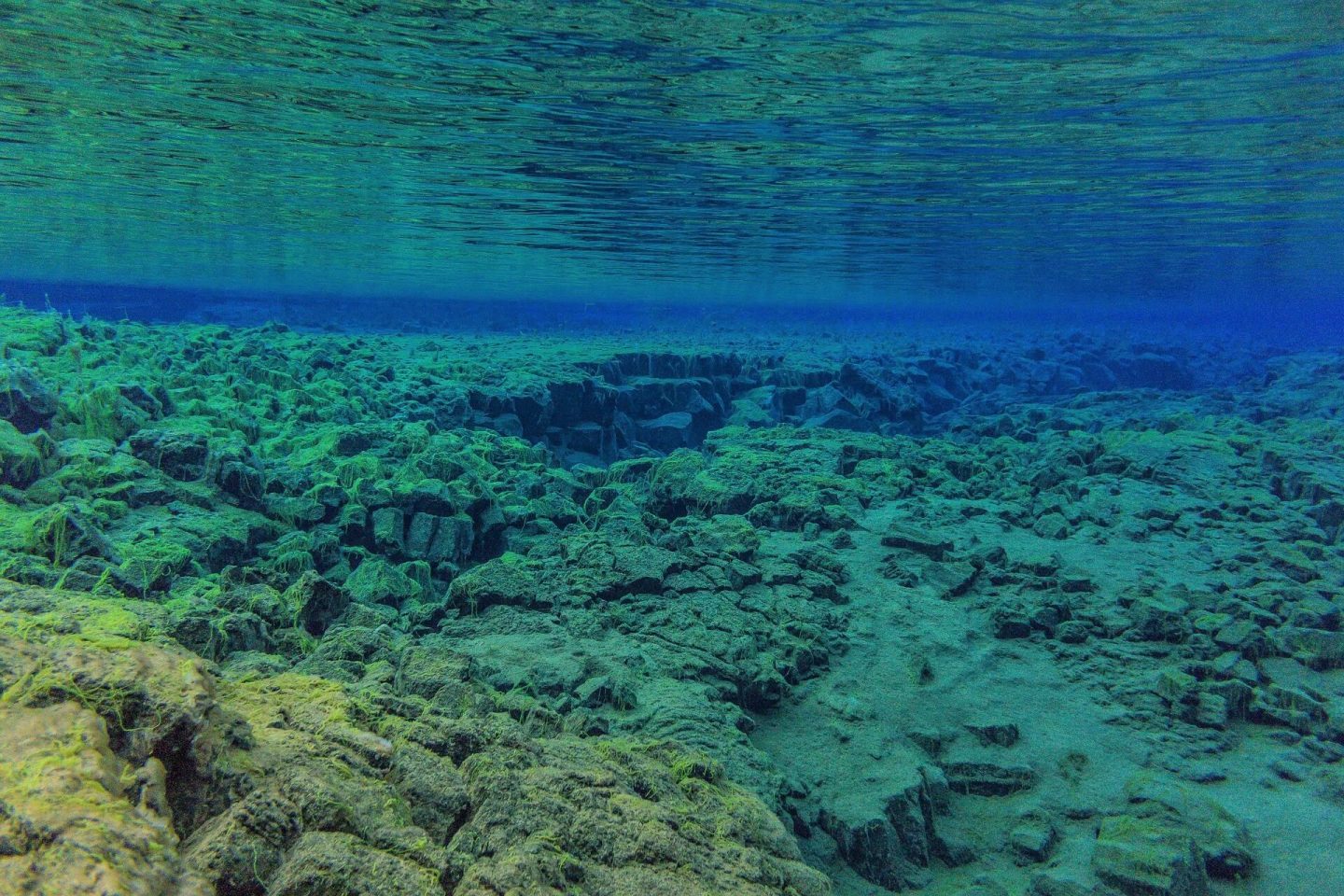 Before heading back to Reykjavik it's worth taking a detour to another of the most unique places to visit in Iceland; the Fridheimar Tomato Farm. Here you can take greenhouse tours to understand the challenges of growing produce in Iceland (especially during its harsh winters). I found it fascinating to learn about how the farm grows four types of tomatoes all year round using 100% green energy and imported bees for natural pollination.
However, the best thing about Fridheimar is its restaurant. located in one of its toasty warm greenhouses, the cuisine all features tomatoes in some form. This brings surprisingly unique but delicious menu options, especially when it comes to the deserts with offerings including green tomato and apple pie and tomato-flavoured cheesecake.
Day 3: The Golden Circle –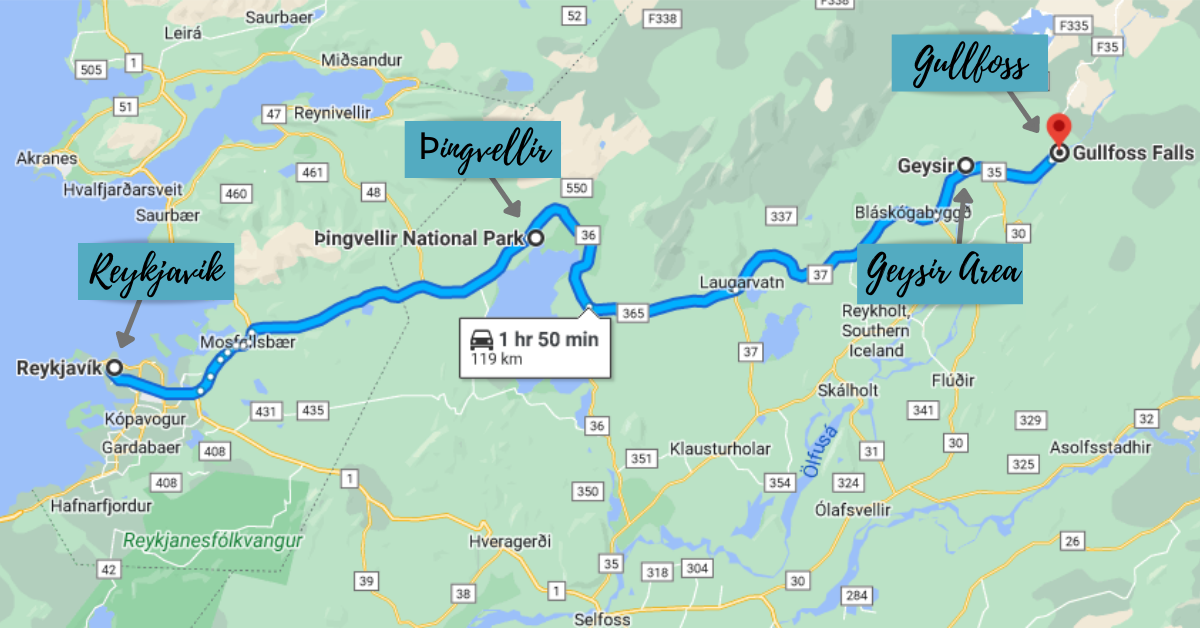 Day 3 of this itinerary really kicks off your road trip around Iceland as it's all about visiting the three most popular spots along the famous Golden Circle… Whether you decide to take a tour or drive yourself, the first destination is somewhere I've actually already mentioned: Þingvellir National Park. As a UNESCO world heritage site, there's a lot more to see here than just the Silfra Fissure. Therefore, I'd definitely recommend heading back to explore more of the park.
For example, it marks the location of Iceland's first parliament, which met at Þingvellir in 930 AD. In addition, you can walk between the tectonic plate boundaries and simply admire the breathtaking scenery. Game of Thrones fans may even recognise the locations of several scenes that were shot here, mainly for Season 4.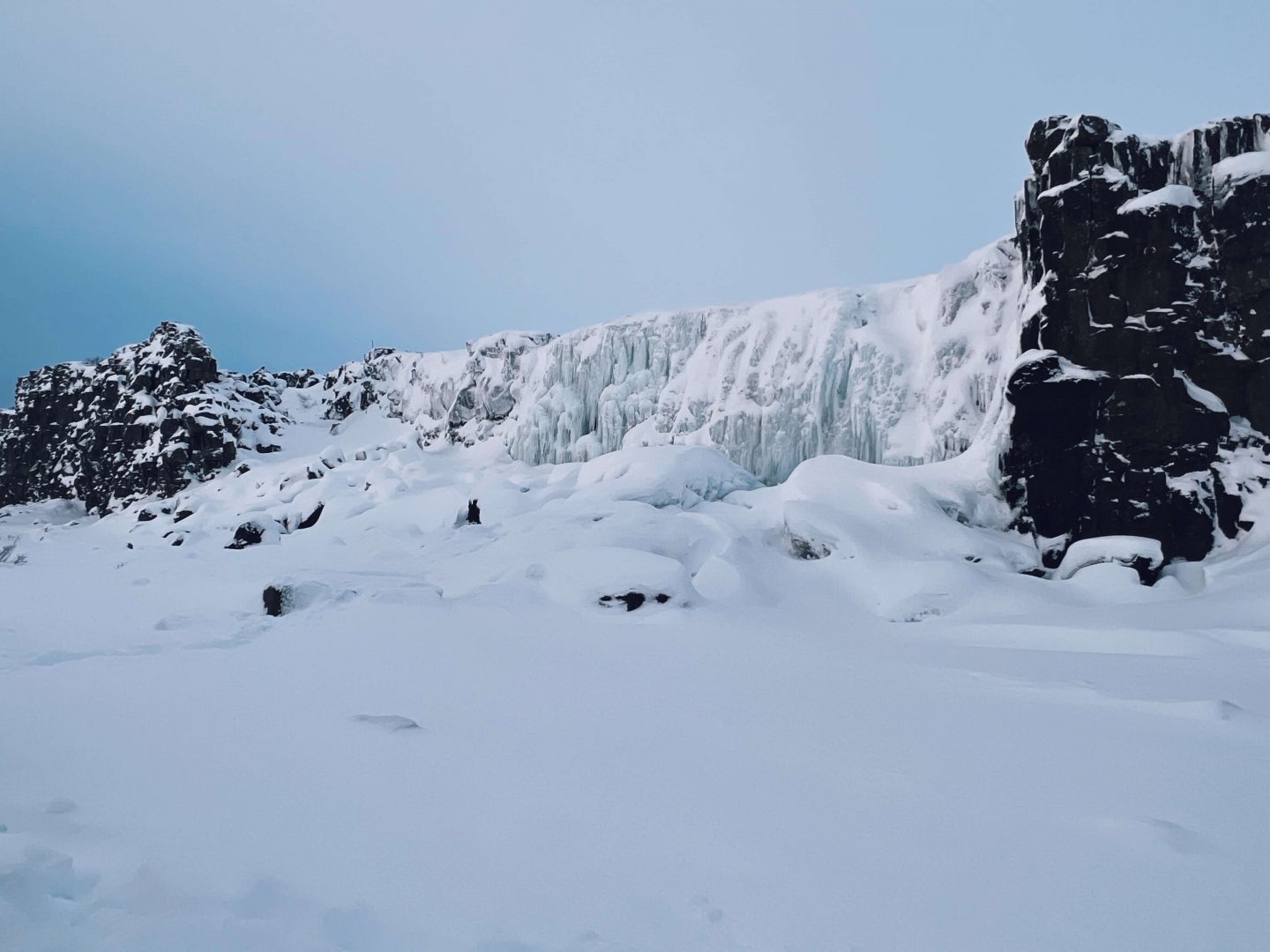 Top Tip: A short 10-minute walk from the lower car park at Þingvellir you'll find the gorgeous Oxararfoss Waterfall, which is well worth a visit! While it's often completely frozen in winter, it's beautiful nonetheless.
The Geysir Geothermal Area is seen as the next stop on the Golden Circle. It's located about an hour's drive from Þingvellir National Park, and arguably it's one of the most mind-blowing things to see in Iceland. Here you can wander through an alien landscape of bubbling mud pots, steaming hot springs and of course powerful erupting Geysers.
The active area stretches for 3 km². However, if you're anything like me, you'll be tempted to head straight to see the "Great Geysir". It erupts every 10-15 minutes, launching a jet of water up to 40m into the air.
You can feel the excitement as everybody stands around waiting for nature to put on a display! Yet, I found it even more interesting to learn that it was the first geothermal region known to modern Europeans. Thus, the Geysir went on to lend its name to hot springs all over the world.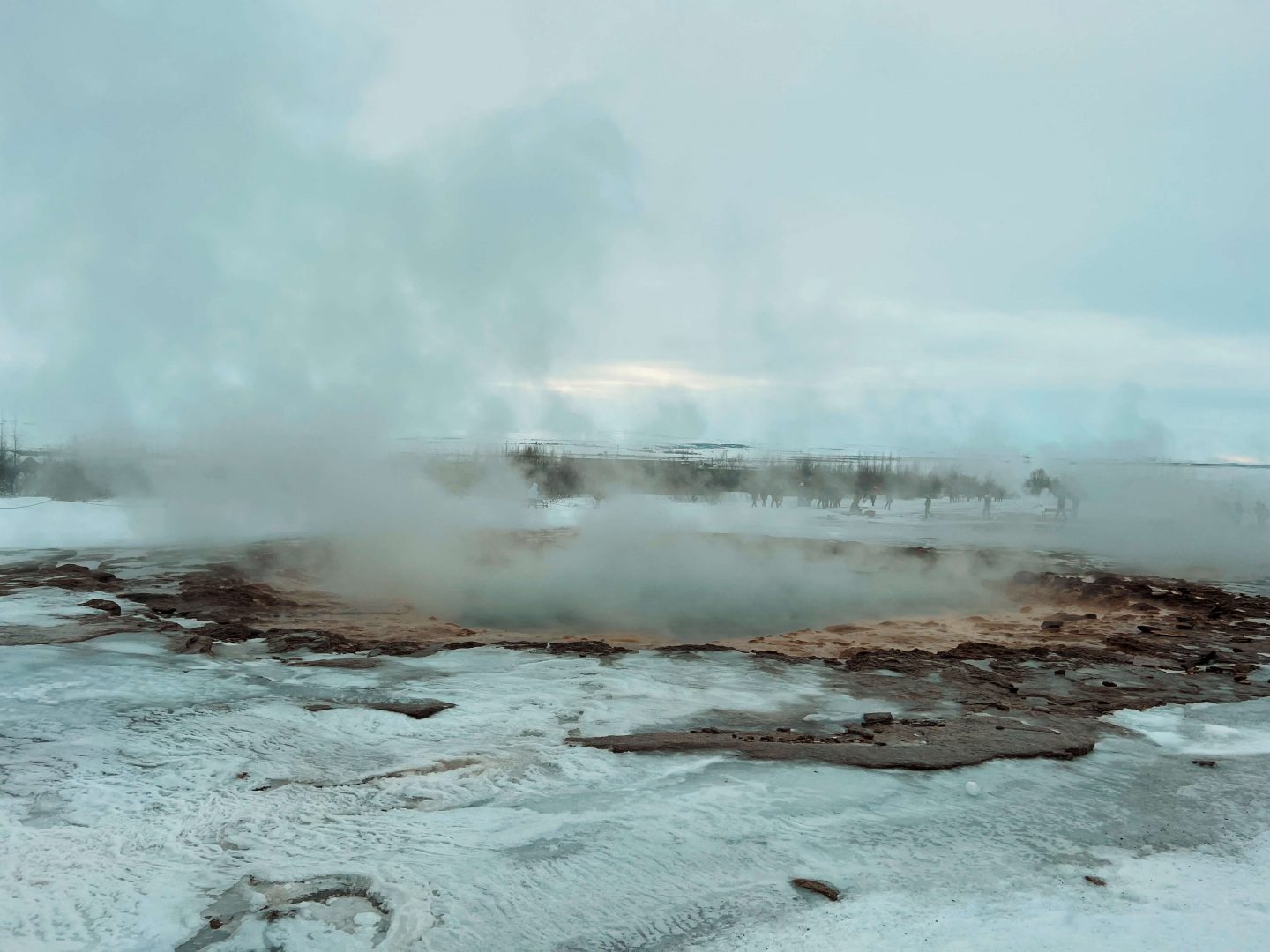 Top Tip: The Geysir Centre is a fantastic place to stop for lunch! Located next to a large souvenir shop, you'll find a restaurant that focuses on serving delicious high-quality food. You can enjoy anything from freshly cooked pizzas to traditional Icelandic soup.
Following this, continue your busy day by driving slightly further along the Golden Circle to visit the magnificent Gullfoss Waterfall, which is actually the namesake for the whole route. This iconic sight is somewhere you definitely don't want to miss during your Iceland Itinerary 7 days.
Leading on from the above, Gullfoss's name translates to mean "Golden Falls". This is because in summer it's not uncommon to see 360° rainbows reflecting off the glittering water. Whilst snow and ice minimise this effect in winter, the waterfall is still incredibly beautiful. Something about its sheer size and power made me want to stand and watch the water cascading 32 meters down to the riverbed all day!
Where To Stay Around The Golden Circle –
After a full day of exploring, I'd highly recommend finding somewhere to stay along the Golden Circle. During my own 1 week in Iceland, I stayed at the wonderful Midgard Base Camp in the small town of Hvolsvöllur. This small family-run hotel/hostel caters for all visitors and offers a wonderful personal touch!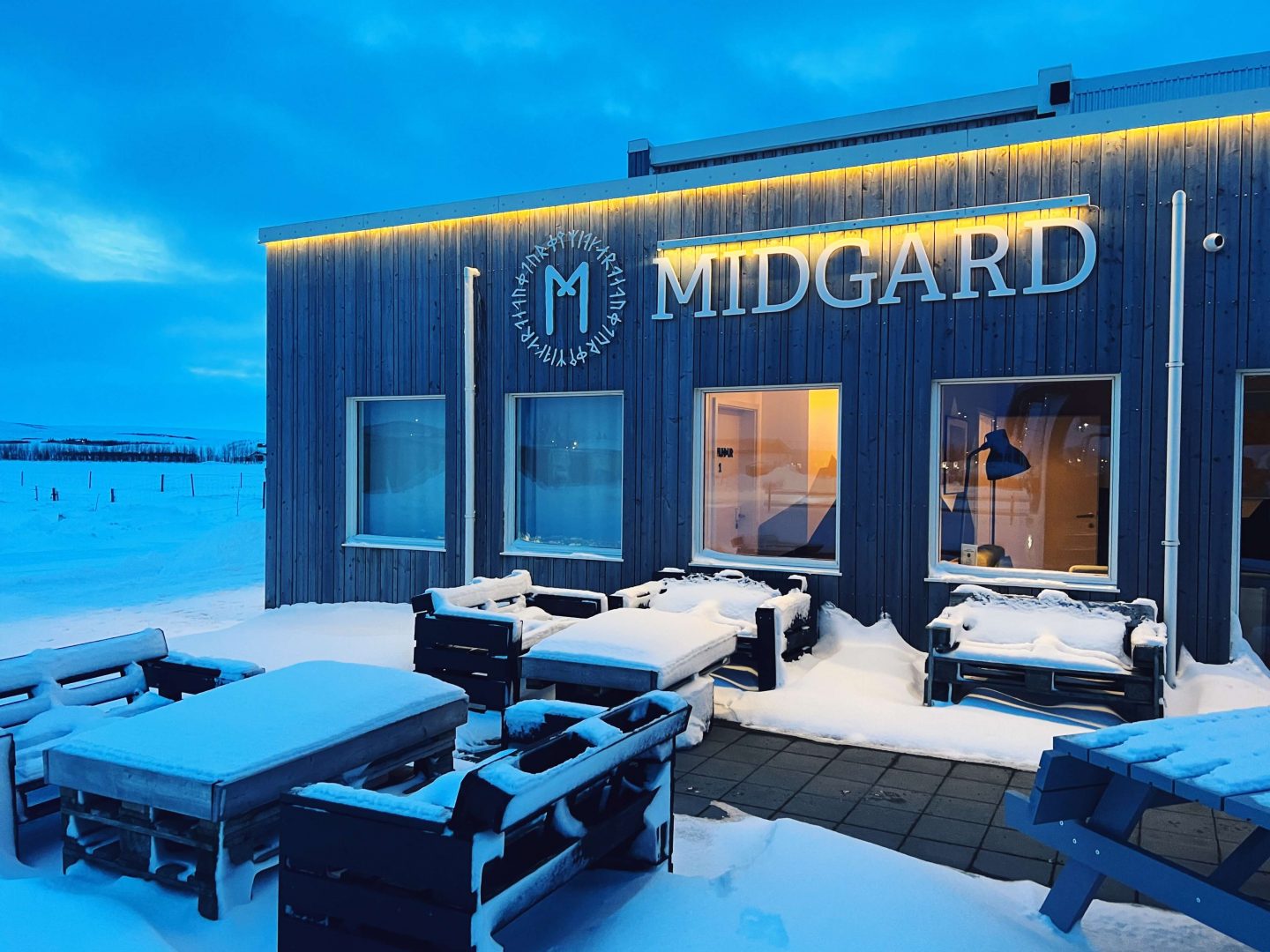 You can choose between a private room with beautiful scenic views or a small multi-share room. Whilst I'm not usually a fan of hostels, Midgard really values comfort and privacy! With thick blackout curtains on each bunk bed and specially designed lockable storage for your luggage, its hostel rooms are ideal if you're looking to save a bit of money whilst on the road in Iceland.
If this isn't enough, its rooftop hot tub is the perfect place to watch the skies for signs of the Northern Lights… The remote location of Midgard Base Camp means in winter you might get the chance to view the Aurora without having to pay for a specialised tour.
During my stay, just after checking in, the Northern Lights choose to put on an incredible display that was thrilling, spectacular and honestly hard to put into words. I couldn't think of a better way to end a day around Iceland's famous Golden Circle!
Day 4: Discover The South Of Iceland –
The next day of my Iceland one week itinerary is all about discovering the south of the island and more of its amazing waterfalls… This includes Seljalandsfoss, which is perhaps the most recognisable waterfall in Iceland. Luckily, it's located right off the main ring road. Therefore, it's an ideal first stop.
Dropping 60m down a sheer cliff face, Seljalandsfoss can be seen from quite a distance as you drive towards it. So, before you even arrive you can start to appreciate its beauty, which only gets more and more outstanding the closer you get!
However, what makes this magnificent waterfall famous is the fact that during summer you can walk behind it! A substantial cave has naturally been carved out of the rock behind the falls, and the outlook back through them is as magical as it gets… Especially if you visit during sunrise/sunset.
Sadly, the path to walk behind the waterfall is closed off to visitors in winter as ice makes it far too slippery and dangerous.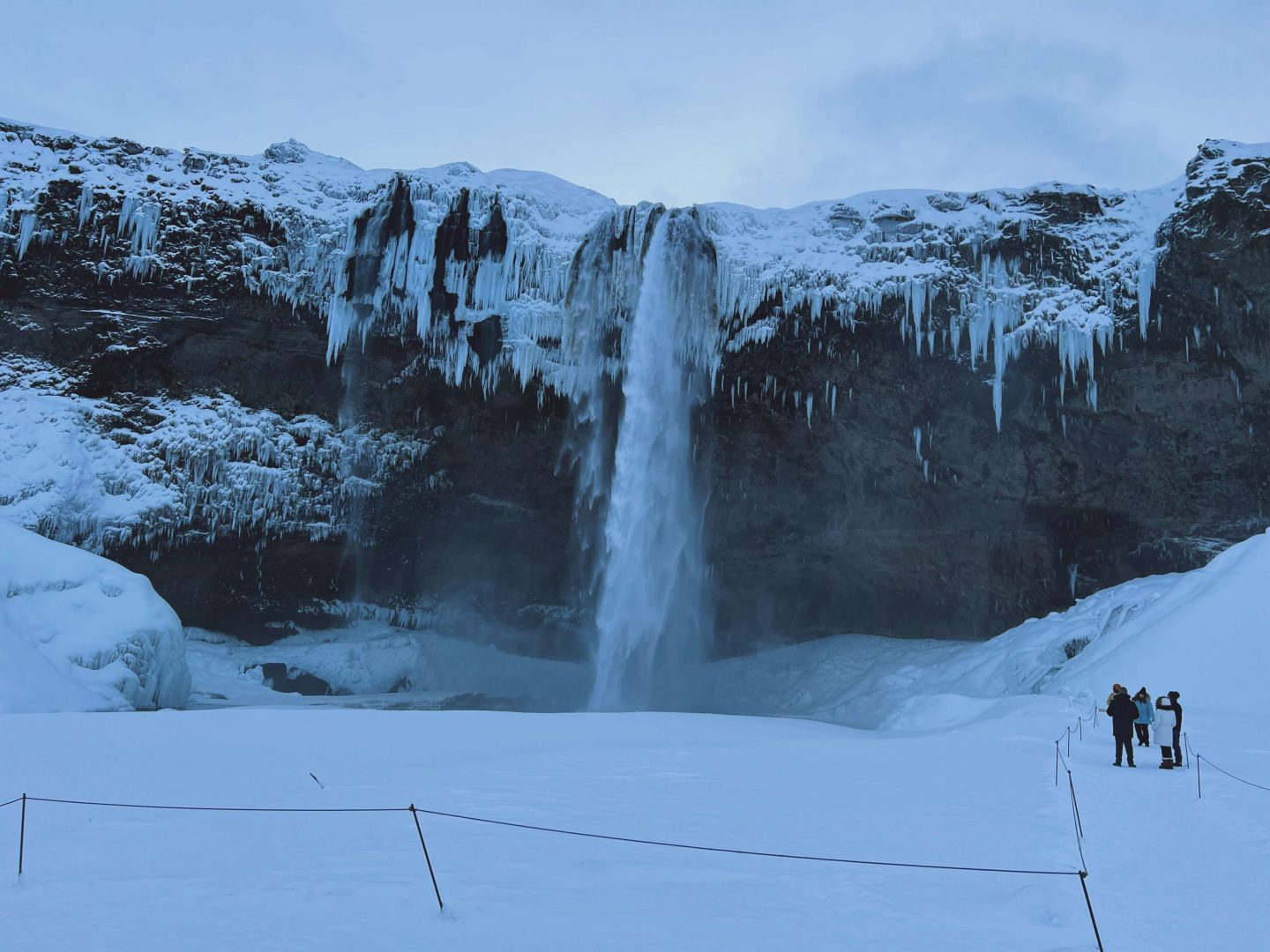 TOP TIP – When visiting Seljalandsfoss, and any other waterfall in Iceland, make sure you bring a waterproof coat, or a change of clothes, as you're bound to get soaked by the spray… And no one wants to spend the rest of the day soggy and cold.
A short five-minute walk to the left of Seljalandsfoss you'll find Gljúfrabúi Waterfall, which is also a must-see. Largely hidden by the cliffs, this sister falls is often missed by a lot of visitors. As a result, it's much quieter than its neighbour.
For me, there was something extra special about Gljúfrabúi. Its name means "Dweller in the Gorge", which is certainly fitting as it hides behind the rocks not revealing its true scale until you paddle through the river into a small opening. Once up close the waterfall is truly dazzling, and all the more so given the extra effort it takes to reach it.
Top Tip – Be careful as you approach Gljúfrabúi as the riverbed and rocks that surround it can be slippery year-round.
Moving on, a 30-minute drive further down the coast will take you to Skógafoss Waterfall. Again, it's breathtakingly beautiful and at 25m wide it seemingly curves around the cliff creating a mesmerising cascade of water that gracefully falls 60m straight down.
Getting up close to the waterfall here will leave you soaked in seconds! But it's such a fun experience to stand right next to the thundering water. At Skógafoss there's also the opportunity to view the waterfall from above.
The winding staircase to the top (which features over 500 steps) is a bit of a workout, and if I'm honest the climb was a little scary in winter since the stairs were covered in a thick layer of snow and ice. Yet, the views more than makeup for this hardship.
The last stop for the day on my ultimate Iceland road trip is Reynisfjara Black Sand Beach. Another Icelandic location that became famous after featuring in Game of Thrones, the beach stretches for almost a mile and its shimmering black sand is said to look like caviar.
Truthfully, I was a little underwhelmed with Reynisfjara beach, but this probably had something to do with the strong icy wind… Even so, something I couldn't help but find fascinating was the beach's basalt columns.
Basalt is a volcanic rock formed from superheated magma during a volcanic eruption. When cooled rapidly it naturally hardens into perfect hexagon shapes, creating the elegant cliffs found at Reynisfjara and across Iceland. It seems hard to comprehend that nature can create such uninformed columns, therefore it's understandable that legends in Iceland tell stories about the basalt columns being trolls who were turned into stone!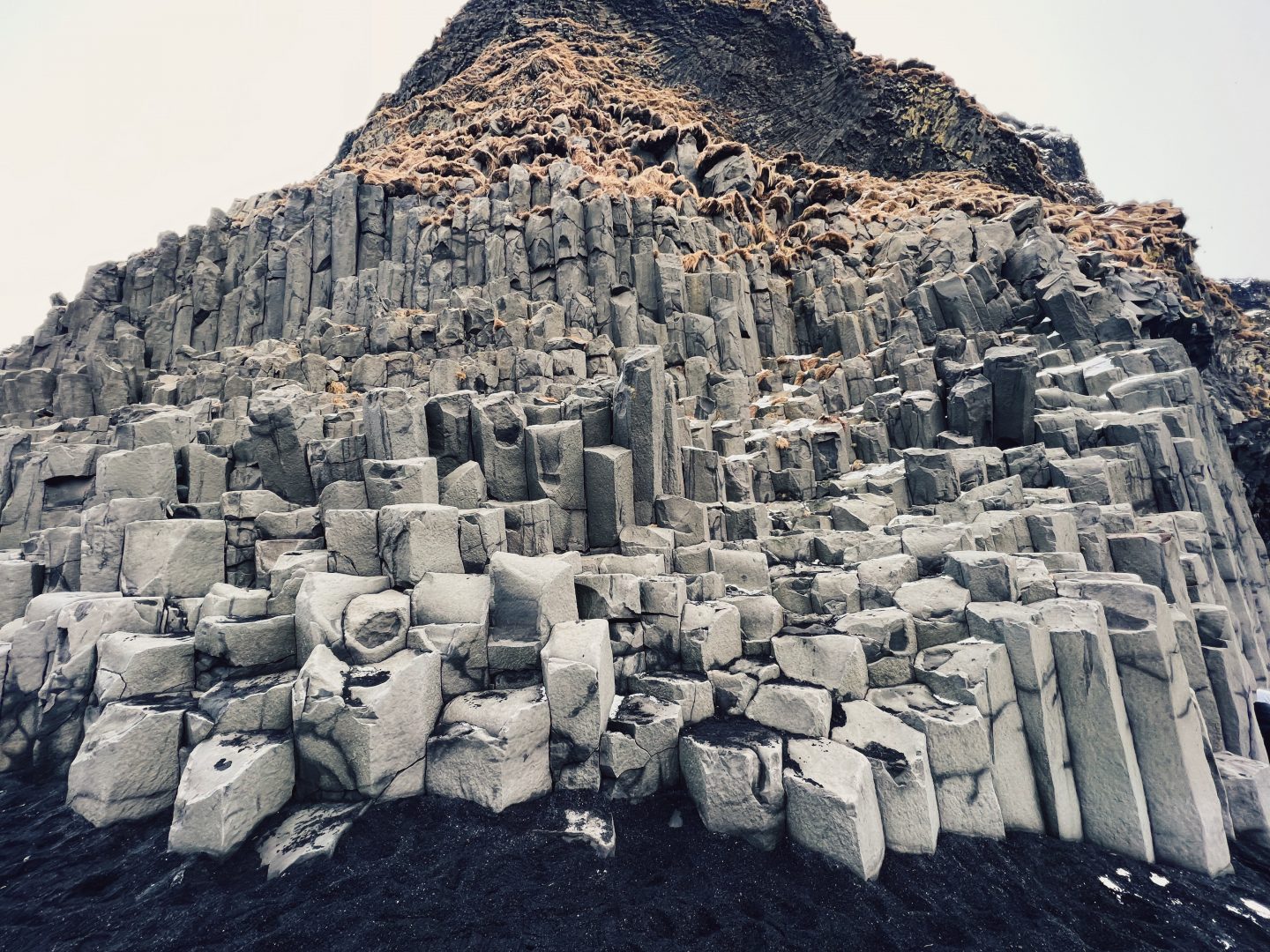 TOP TIP: Reynisfjara Black Sand Beach should no doubt be included in every Iceland Itinerary 7 days. However, when visiting the beach, you have to be extremely careful! So-called "sneaker waves" regularly crash into unsuspecting visitors and sadly several people are dragged out to sea and killed each year. When visiting, my Icelandic guide advised keeping an eye on the sea at all times.
Where To Stay In The South Of Iceland –
Just a short drive from Reynisfjara Black Sand Beach sits the charming fishing town of Vik. Whilst small, it's home to several fantastic accommodation options including the modern Hótel Kría and the luxurious Vík Apartments. Found right on the beach, each apartment has its own balcony that offers fantastic sea views.
Alternatively, you could opt to stay more "off the beaten track". Fosshotel Núpar is located seemingly in the middle of nowhere. This isolation means that the views from every single room are spectacular and uninterrupted.
What's more, since the hotel is the only source of light pollution for miles, the night sky appears spellbinding on a clear night! There's also a chance you'll be able to spot the Northern Lights dancing right outside your room.
Day 5: Delve Into South East Iceland With A Glacier Hike –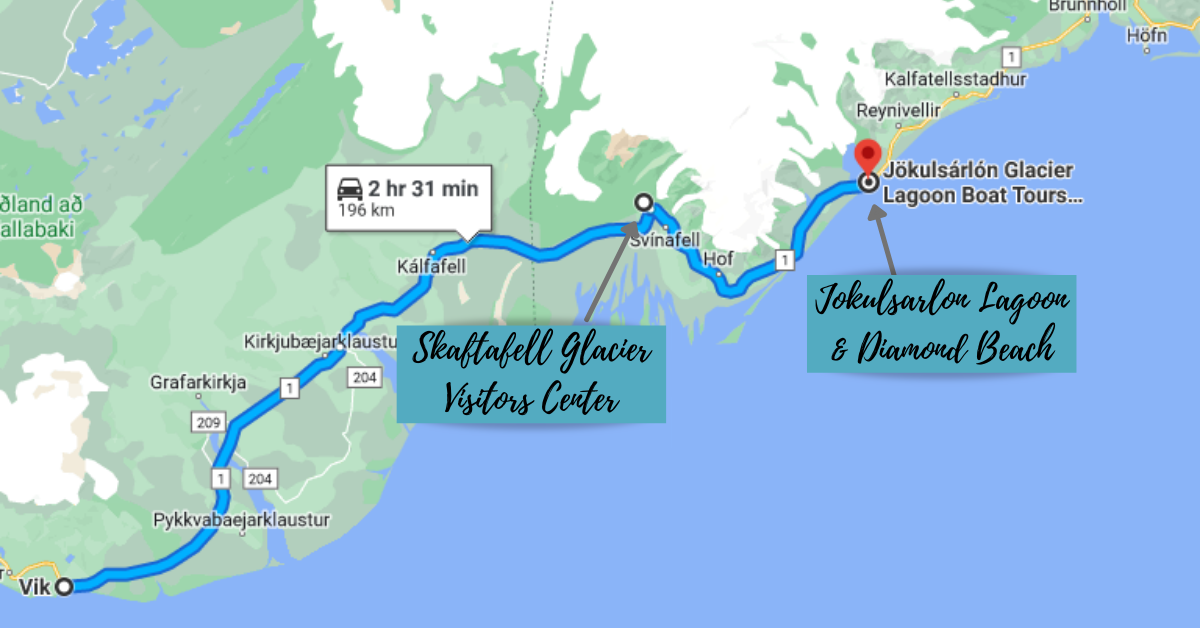 After spending a comfortable night in Vik, I recommend an early start the following day so you can experience what turned out to be my favourite part of this Iceland one week itinerary, getting to go on an awe-inspiring glacier hike.
Vatnajökull Ice Cap takes up a large proportion of southern Iceland. As Europe's largest ice cap it has roughly 30 outlet glaciers, some of which you can climb. Comprising of ancient striking blue ice, deep crevasses and ever-changing ice caves, they are breathtaking to explore!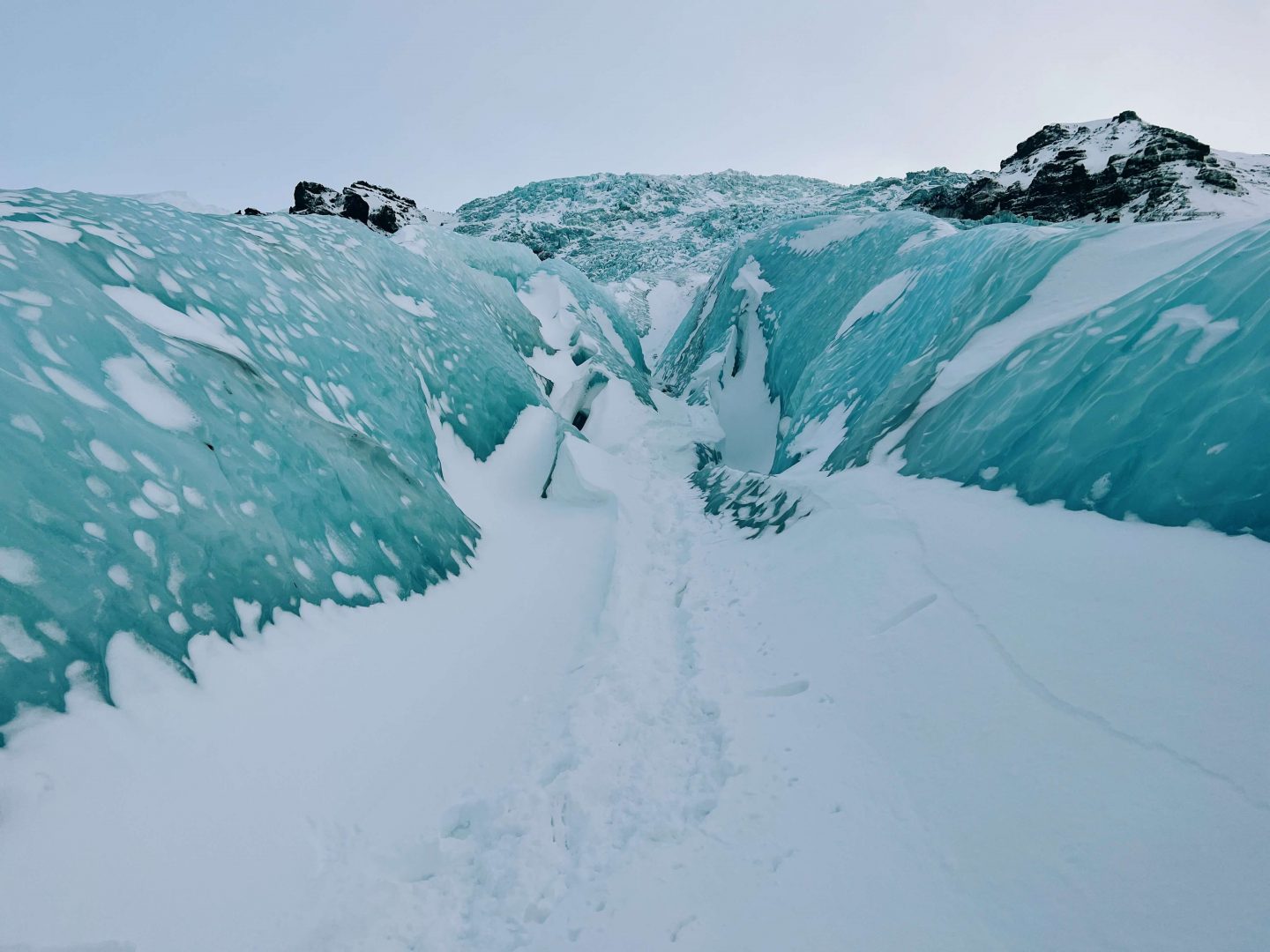 To experience Iceland's glaciers safely you absolutely need to book a guided expedition with experienced locals. Most tours start from the Skaftafell Visitors Centre which is a short drive from the most popular hiking routes.
On my own glacier hike, I booked a tour with the Icelandic Mountain Guides, who have been operating excursions onto the ice for over 20 years. I couldn't recommend them enough as everything from the high-quality equipment provided to the charming guide, was simply fantastic.
Furthermore, whilst there are several different types of glacier hikes that you can do, I'd recommend opting for ones that spend as much time on the ice as possible.
On my trip, it took everyone in the group around half an hour to be fitted with their harness, crampons and an ice axe. Then we got into a bus for a short drive to the beautiful Falljokull Outlet Glacier. Known as the "falling glacier", it's very slowly crashing down the mountain towards the ocean. A sight that only looks more extraordinary the closer you get!
Following this, it was then an easy 45-minute walk to the base of the glacier. Sadly, this walk gets longer and longer each year as more of the ice recedes/melts due to global warming. However, the main point I'm trying to make is that if you book a common two-hour tour, by the time you get onto the ice you'll actually only have about half an hour to explore. With so much to see this is nowhere near enough time!
By taking a longer tour, our guide was able to take the group quite high up the glacier, whereby I felt tiny surrounded by tall walls of ice and shining blue caves. With an ice axe in hand and crampons on my boots, it felt like a true adventure!
After making it safely down the glacier, you'll likely be quite tired from the physical exertion. Thus I suggest taking some time to relax over lunch before driving to the nearby Diamond Beach. Found nowhere else in the world, a visit to this unique volcanic black sand beach is something you don't want to miss off your Iceland trip itinerary!
The beach is spectacular simply because it's filled with crystal clear diamond-like icebergs. Ranging in size, these chunks of ice are washed out to sea from the neighbouring Jokulsarlon Glacier Lagoon, where they are then polished by the waves before being brought ashore by the tide.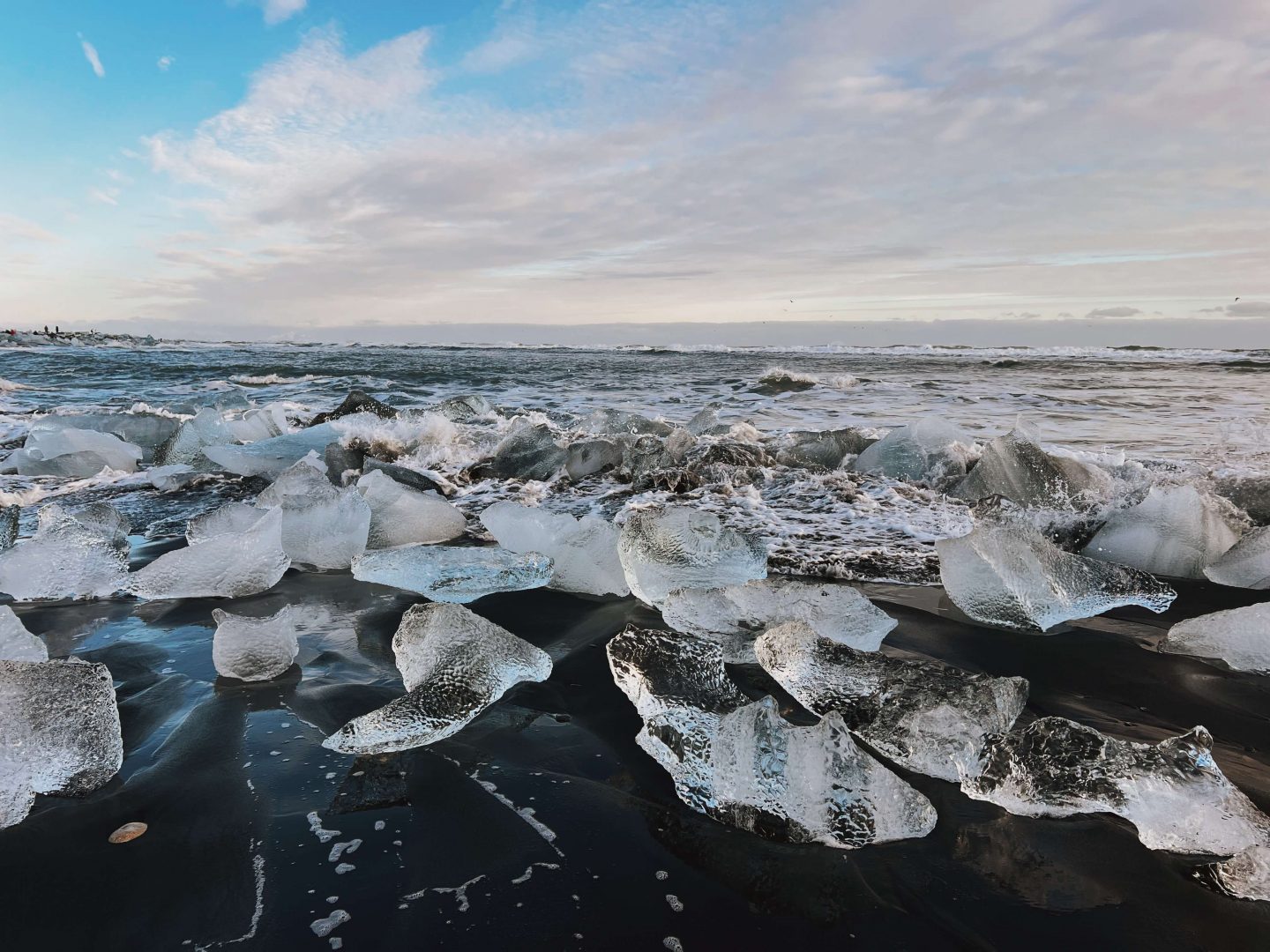 This exquisite experience is made even more magical if you visit at sunset. Yet you should allow enough time to pop across the road to also visit the aforementioned Jokulsarlon Glacier Lagoon, as it's also incredibly beautiful in its own right.
The deepest lake in Iceland, the lagoon features stunningly clear blue water and countless massive icebergs from the surrounding Breiðamerkurjökull Glacier. Some of the ice found inside the lagoon is over 1,000 years old, which is truly remarkable. What's more, Artic Seals regularly visit the lagoon to catch fish, and I found it thrilling to spot their little blackheads poking up between the ice!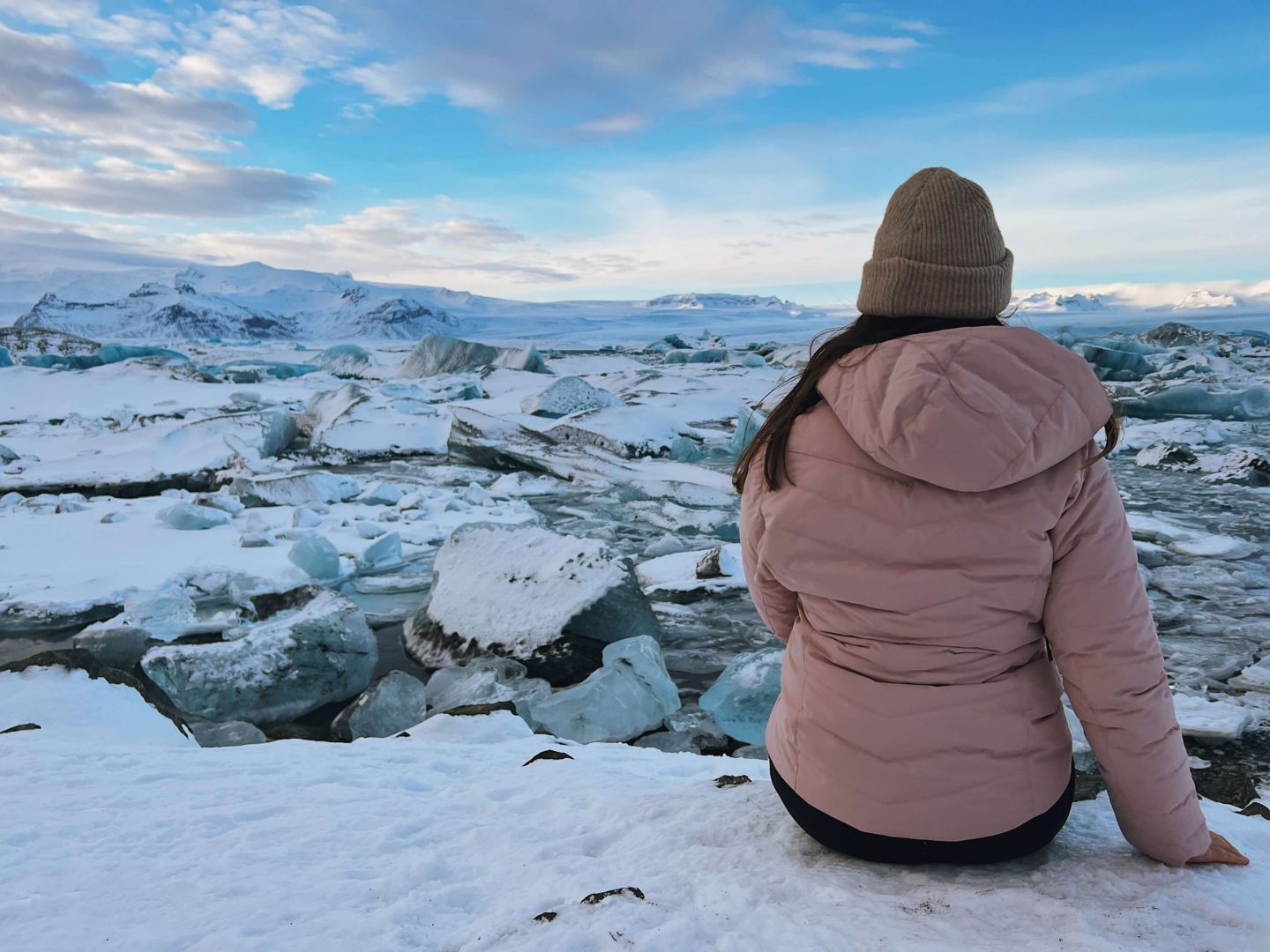 Whilst both the Jokulsarlon Glacier Lagoon and Diamond Beach are incredibly beautiful, they are sadly the result of global warming. The size of the lagoon has increased fourfold since the early 1970s as the Breiðamerkurjökull Glacier has begun to rapidly melt. Some scientists have even predicted that it will completely disappear within 30 years, which is incredibly upsetting.
Where To Stay In South-East Iceland –
Located in one of the few natural harbours on Iceland's South Coast, Höfn is another small charming fishing town that is well established as a great place to stay along Iceland's main ring road. Further away from Reykjavík, accommodation in Höfn is notably more affordable and often comes with fantastic views of the Vatnajökull Ice Cap. Top picks include the Milk Factory and Seljavellir Guesthouse.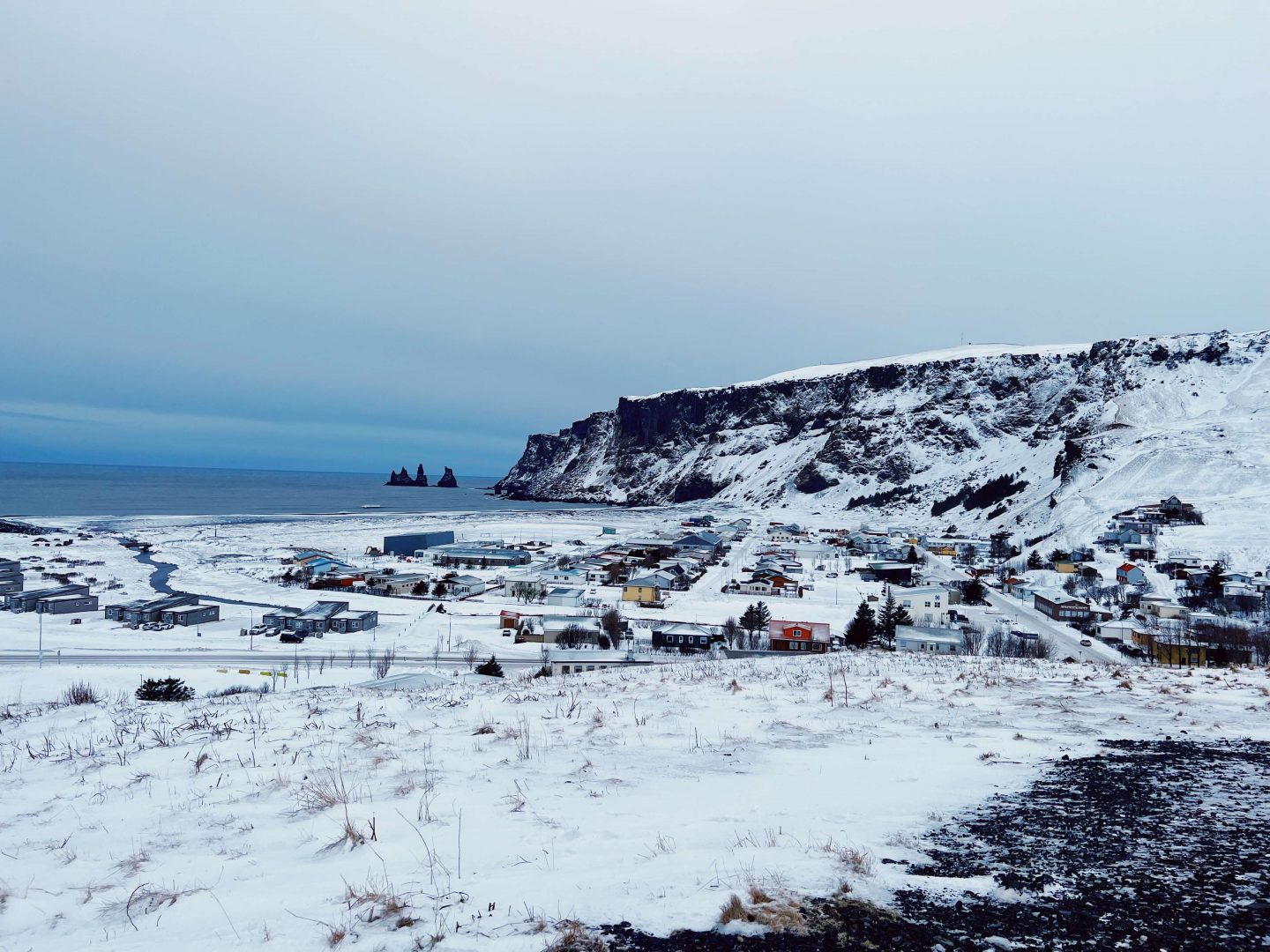 However, with a lot of driving already on the cards for the next day of my Iceland ring road itinerary 7 days, I personally decided to head back to Vik for the night. From the Jokulsarlon Glacier Lagoon, it is about two and a half hours drive.
Day 6: Travel back to Reykjavik & Visit The Blue Lagoon –
After five busy days exploring the best places to visit in Iceland, what could be more deserved than spending an afternoon in Reykjavík's famous geothermal spa, the majestic Blue Lagoon.
Driving straight from Vik, the journey to the Blue Lagoon takes around three hours as it sits on the Reykjanes Peninsula. However, with guaranteed beautiful scenery to be seen outside your car window the whole way, the time flies by!
Arriving at the Blue Lagoon I was incredibly excited to finally get to experience the Instagram famous attraction… Naturally heated by hot springs, it actually formed when runoff water was released into a lava field by a neighbouring geothermal power plant.
On first impressions, I thought the steamy milky Blue Lagoon was as picture-perfect as you see online, especially since it contrasts so vividly against the black volcanic rocks. Plus, the mineral-rich water, free exfoliating silica mud mask and a free chilled drink, no doubt left me feeling relaxed and refreshed.
Having said this, I do think that the Blue Lagoon has become a little bit overrated. For one, as the most popular tourist attraction in Iceland, it can get extremely busy. Therefore, it's advisable to prebook your ticket well in advance to avoid disappointment. In addition, the locker rooms felt crowded with very little privacy.
Parts of the lagoon also seemed a little run down, with brown rust visible around the edges of the outer pools. For such a high price (the cheapest package is ISK 8 490) I'd expected a little more 'luxury'. Nonetheless, I overall enjoyed the experience and would still say that a visit is a must during your own one week in Iceland. I especially recommend exploring as much of the lagoon as possible (don't be tempted to just stay by the bar). Plus, take advantage of the free saunas and steam rooms that you'll find dotted around the edge!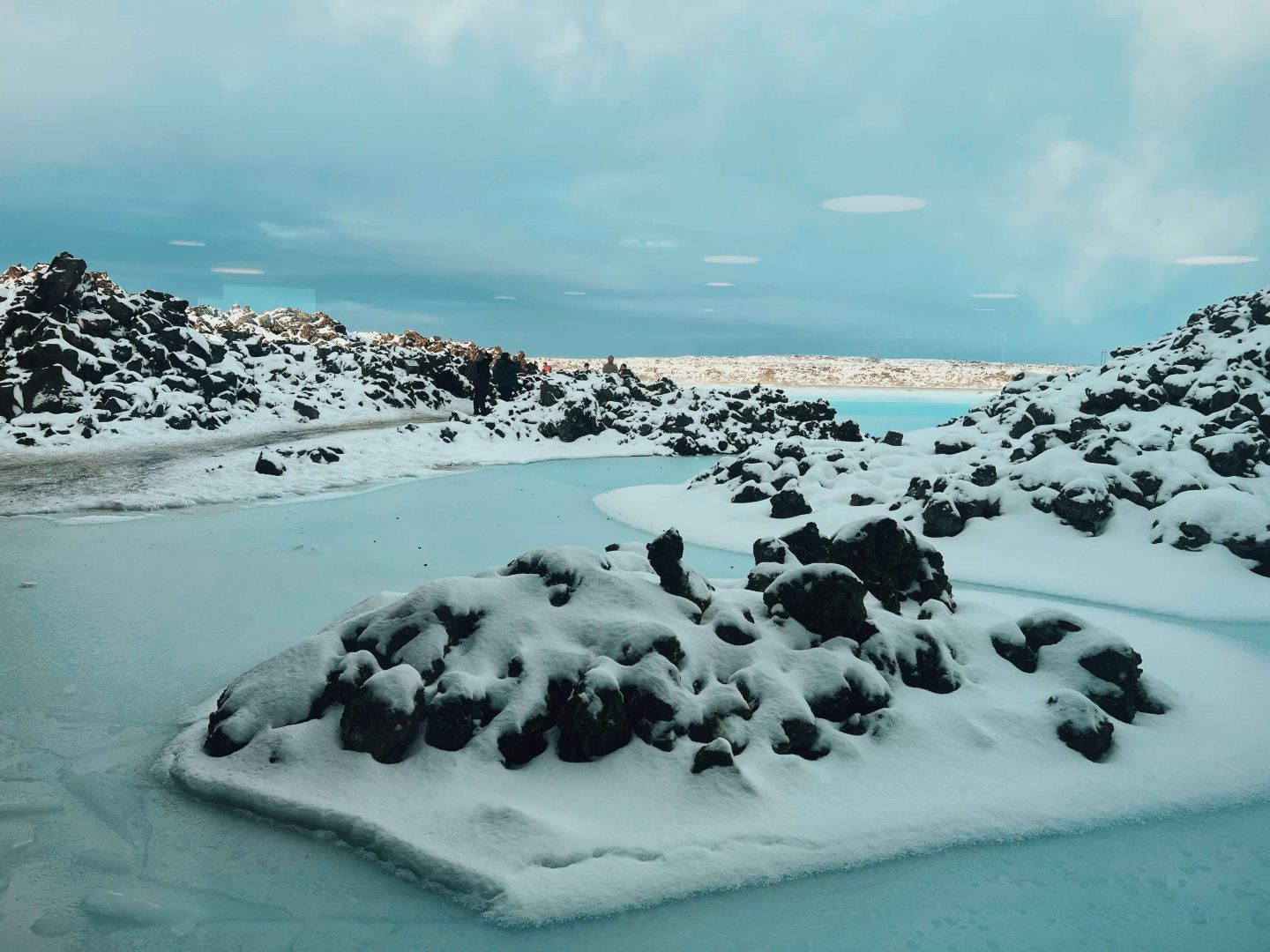 TOP TIP: The Blue Lagoon will dry out your hair so avoid getting it wet! Ladies especially should apply conditioner all over their hair before entering (free conditioner is available from the locker rooms).
Where to stay –
For the final night of my Iceland itinerary, I recommend staying back within Reykjavík! After spending the afternoon treating yourself at the Blue Lagoon it's the perfect opportunity to explore more of Iceland's charming capital city.
Day 7: Take A Day Trip To The West of Icelend Or Remain Reykjavík –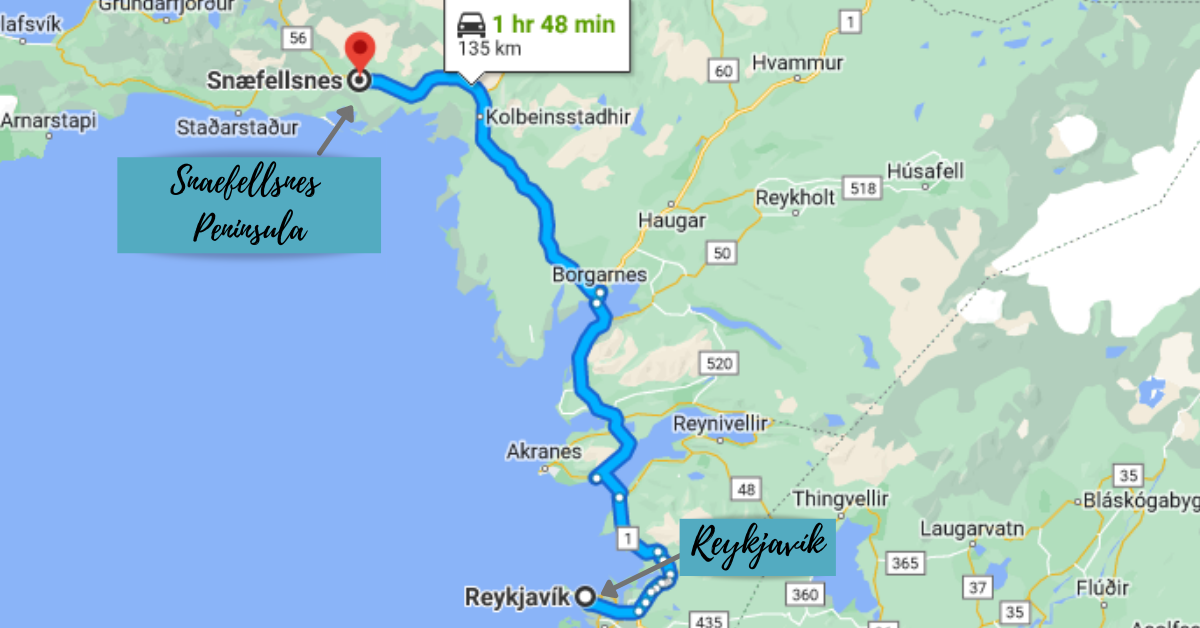 I had planned to end my own 1 week in Iceland by taking a day trip to explore the west and the Snæfellsnes Peninsula, where there are more incredible natural landscapes to discover. This includes the imposing Gerðuberg Cliffs (a wall of basalt columns), Bjarnarfoss waterfall and the famous uniquely shaped Mt. Kirkjufell.
Unfortunately, the small-group guided day trip that I'd booked with Viator got cancelled due to bad weather. A sudden snowstorm the night before meant a lot of the roads west were closed. Luckily I found that there were still plenty of things left to do within Reykjavík. In truth, you may find it more relaxing to finish your own Iceland itinerary with a less intensive day anyway.
For example, I took the opportunity to tick off an experience I would have otherwise missed, going horse riding within the beautiful Icelandic scenery. Getting to meet some Icelandic horses, who are both hardy and adorably cute, was such a fun experience.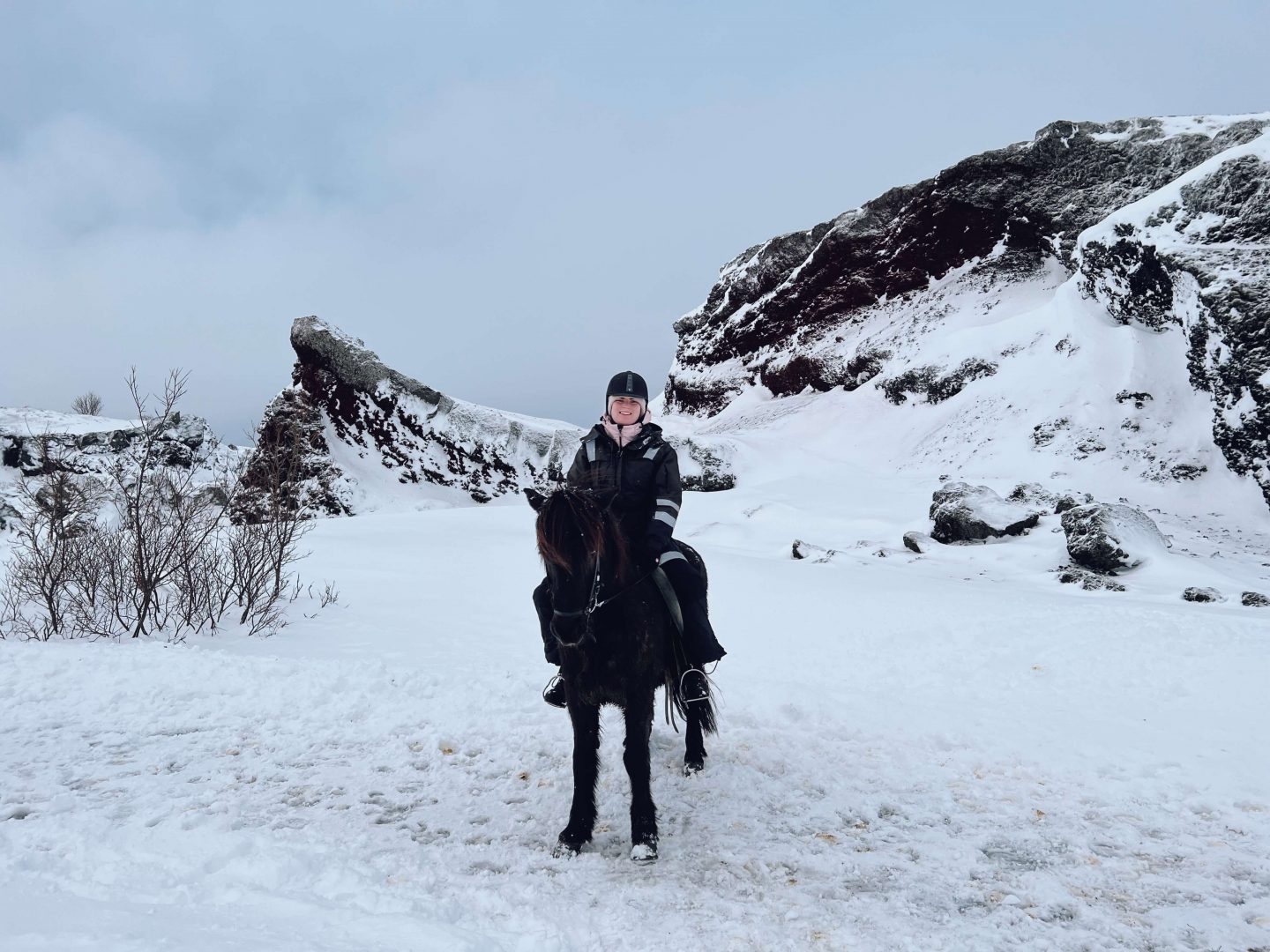 Following this, a new attraction in Reykjavík that I would highly suggest visiting is the Sky Lagoon. I booked an evening pass to enjoy the seven-step ritual offered at this geothermal spa, and it was truly fantastic! The Sky Lagoon only opened in 2021 so everything feels new and pristine. The main lagoon is an infinity pool that has been carved around volcanic rocks. Therefore, it offers breathtaking views overlooking Reykjavík and the Atlantic ocean.
If this isn't enough, the 7-step ritual is incredibly rejuvenating. Stepping into the sauna I was blown away by its panoramic views. Featuring a large window, it feels like you're sitting and watching a perfectly curated moving picture.
In this way, I would go as far as to say that the Sky Lagoon is a much better experience than the Blue Lagoon – and if you only have time to visit one, despite the latter having more notoriety, I'd have to recommend visiting the Sky Lagoon instead.
After all, what could be better than ending a trip to Iceland in a geothermal pool with sparkling wine in hand and watching a magnificent sunset over the freezing landscape?
♦♦♦
I hope this Iceland Itinerary 7 days helps you to plan your own trip to the wonderful country! I felt like it enabled me to see most of the top attractions, all of which are truly remarkable. In this way, Iceland is a place like no other and adding a few more days onto this itinerary, if you have the time, would be ideal! But, however long you have to explore the island you'll no doubt be left wanting more. I for one am already itching to return, perhaps to experience the delights of the summer season…
Like this Iceland Itinerary 7 days? PIN IT FOR LATER: