Our second day in San Francisco was to be just as packed as the first – in San Francisco – Day One
Dylan's Tours 
With limited time, and wanting to explore as much as the city as possible, we booked onto Dylan's Minibus Tours. Whom, I have to say, are a fantastic company. With a maximum of 14 passengers per tour, it was a great way to meet and connect with fellow visitors to the beautiful city.
The mini buss itself was modern and clean and they even provide water and snacks as an extra touch – which to be honest, sums up their excellent customer service!
Their tour cost's $89 per adult meaning that there's certainly cheaper ways of seeing the city. But, on our time limit, seeing as much of the city as possible, by people who really knew their stuff, was exactly what we were looking for!
Our guides passion and love from San Francisco really came across throughout the trip. Having someone who is clearly very proud of his city, showing you its highlights was a great experience and one I'd recommend to anyone!
The tour took us too:
City Hall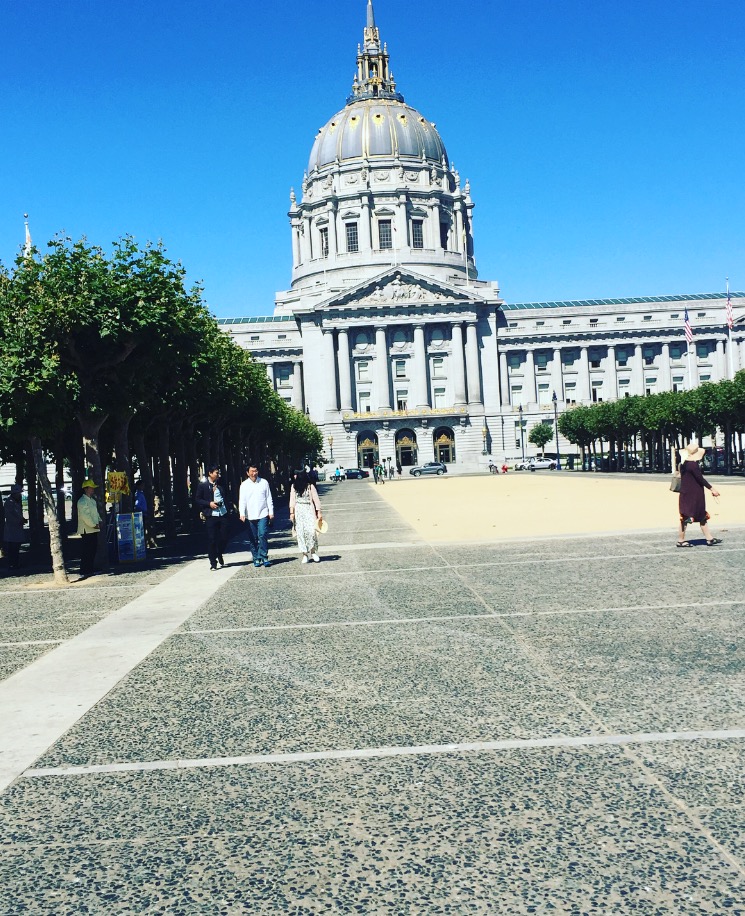 San Francisco's City hall took my breath away  It's beautiful architecture and historical prominence gave a sense of grandeur to the modernised heart of the city… I can certainly see why it's a popular wedding venue! – good enough for none other than Marilyn Monroe.
However, it was City Halls darker history which struck me the most. On November 27th, 1978, America's first openly gay city commissioner Harvey Milk along with Mayor George Moscone, were shot and killed within City hall by former Supervisor Dan White.
This was a true tragedy for the city, who lost two forward thinking and highly respected politicians.
To me, it therefore appear's poignant that San Francisco is now famed for being a city that is ruled by love and celebrates diversity!
Delores Park
The city's 'Mission District' is the home to the Beautiful Delores Park. Which, with its rolling green hills, palm trees and spectacular views is certainly much more impressive than any park you'll see in the UK.
The grass is meticulous maintained – perfect for a picnic if you have more time than we did! (There's also excellent facilities for kids to play on).
Our guides explained that its one of the city's most popular destination on hot sunny days. I can't imagine why…
Twin Peak's 
The Twin Peak's are two dominant hills near the geographical centre of the city. Just a short drive from the centre, they offer a fantastic vista of the city.
On a clear day you can even make out the Golden Gate… we weren't so lucky but, the view was still heart-stopping.
The City's Architecture
As with City Hall, the cities oldest buildings and homes were truly beautiful. The famous 'painted ladies' stood out amongst the backdrop of modern homes and developments.
Further impressive were the few  Victorian houses which managed to withstand the devastating 1906 earth quake. A catastrophic event which killed over 3,000 people and the subsequent fires it caused, left a further 225,000 homeless.
Pacific Heights -Billionaires Row 
A far cry from 'old town' San Francisco, Pacific Heights in the north of the city,  is home to the cities super rich and their expansive mansions.
An epileptic mix of traditional Georgian properties and new builds, all the homes in the area are of course both beautiful and cost eye watering money… None the less,  the view from the hill top of 'Billionaires Row' is (like so many in San Francisco) spectacular: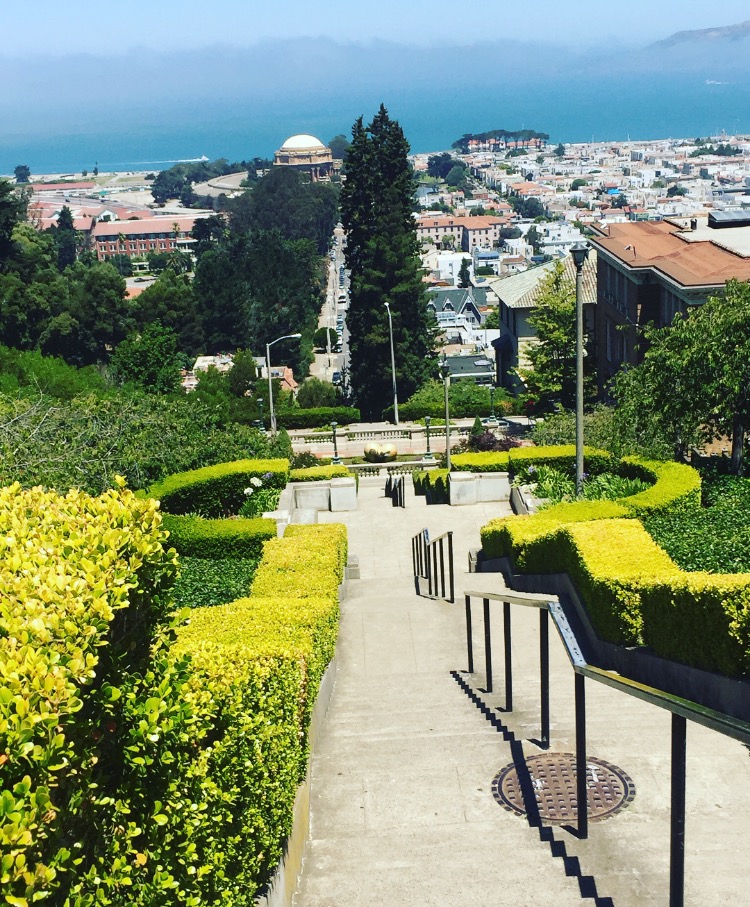 Fun Fact – the dome building in the background of this picture (The Palace of Fine Arts) is said to have inspired George Lucas' creation of R2-D2
The stature of this neighbourhood does however raise a big moral question for me. In recent years, as the city has become increasingly 'trendy' and with Google and Apple millionaires (thriving off the tech boom) moving into the city,  long Term residents are being pushed out by increasing rent and extortionate living costs:
'Many long-time San Francisco residents worry not only about being forced out of the city they love, but also that their city is being changed for the worse. Critics say that San Francisco's communities of alternative culture, creative mojo and legendary social movements – are being turned into playgrounds for rich people.' – (https://www.theguardian.com/world/2014/feb/23/is-san-francisco-losing-its-soul)
An issue, which was at the heart of many locals that we spoke too!
The Golden Gate Bridge  –
Moving Swiftly onto a lighter subject… Like most, when somebody says San Francisco, I instantly thing of the Golden Gate! With construction completed in the late 1920's, for over 90 years, it's been seen as a wonder of the modern world. And boy does it deserve this title!
I was worried that the strait would disappoint… So often things spectacular in photos don't match up in real life. But to be honest, I  in fact think it's hard to capture the complete, unique beauty of the bridge in photographs. Shrouded by fog, it incites you and creates a true sense of wanderlust.
Throughout our stay in the city, we were able to see the engineering masterpiece from several different breathtaking positions: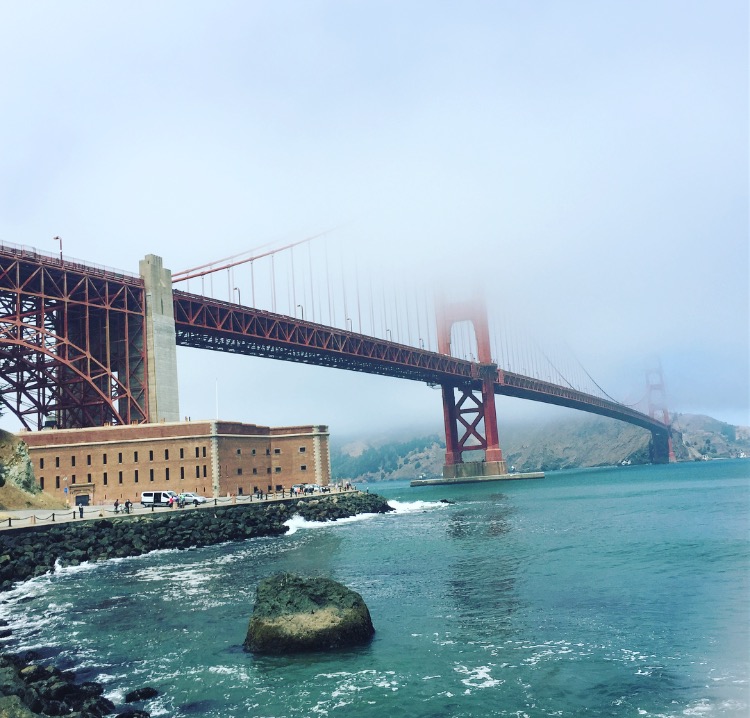 Still with me? After the Length of the post I thank you Greatly 🙂 Any thought on the post? Visited the city yourself? planning a trip? I'd love to hear your thoughts and comments at the bottom of the page!