When in Ireland you absolutely have to visit Galway! The city is filled with Irish charm, great people and even greater pubs. Whatsmore, walk five minutes away from the lively city centre and you can enjoy the picturesque countryside. In other words, there's plenty of things to do in Galway Ireland, the very best of which are listed below!
*Updated June 2021
Drink on Quay Street –
The charming cobbled Quay Street is the bustling heart of Galway's famous Latin quarter! Plus, Its colourful houses have to be one of the prettiest things to see in Galway. They're draped with flags and bunting which brightens even the rainiest Irish day. In this way, I'd always suggest starting any visit to Galway with a stroll along this popular street. 
If this isn't enough, Quay Street is also home to most of Galway's famous Nightlife! My favourite is undoubtedly Quays Bar which has been open for over 400 years and hosts amazing live music events!
Galway Ireland things to do: Eat Your Heart Out –
The restaurants in Galway are superb! Therefore, the next of my top things to do in Galway is to try and sample as much food as possible… Located so close to the sea, it's no surprise that the town is renowned for its seafood. You'll find restaurants serving fish and chips throughout the city! The best I had was from The Front Door. 
This said, my favourite restaurant in Galway is one specialising in Mexican/Italian: High Cafe. Located on Quay Street, the restaurant is hard to spot because it's not on street level (hence the name). You have to climb a hidden flight of stairs to reach the restaurant but it's more than worth the extra effort!
SIDE NOTE: planning a trip to Ireland? Then check out my 5 Day Ireland Itinerary 
Visit the Harbour and Long Walk –
One of the most scenic parts of Galway is its harbour. Here you can catch a glimpse of the famous Galway Hookers… Clear your mind as these are simply old fishing boats!
From the harbour, you can then walk back into town via the 'Long walk' – a section of the bay adorned by more colourful houses. By doing so you'll also pass another of the popular things to do in Galway city, the Spanish Arch, which was built in 1584!
Walk to Salthill –
If you ask locals what to do in Galway, many will suggest heading to Salthill. It takes about 20-minutes to walk from the city centre to Salthill, however, you'll be rewarded with picturesque coastal views and beaches that are popular with locals and tourists alike. In the summer months, some brave souls even dive into the Atlantic from a custom-built diving tower.
In addition, the 2km long Salthill promenade is lined with bars, seafood restaurants and cafes, which all make for rewarding places to visit after a long walk!
Murphy's Ice Cream –
Moving back to food briefly, Galway is home to Murphy's Ice Cream Shop which is said to serve the best Ice Cream in Ireland, a statement I definitely agree with! Even If you travel to Galway in the cooler months I'd recommend getting a cone… Or two. 😉
Tour Galway Cathedral – 
Perhaps the most dominating building in Galway is its stunning Cathedral, which you may automatically think is centuries-old…  Surprisingly, however, Galway Catherdral is in fact Ireland's newest large stone church, with construction being completed in 1965. 
This said, going inside the cathedral is still a must; due to features like its huge octagonal dome, impressive wall paintings, and charming rose-coloured windows.
Top things to do in Galway: Visit Dunguaire Castle – 
Just half an hour's drive away from Galway City centre, Dunguaire Castle is one attraction that really is as old as it looks. Built by the O'Hynes clan in 1520, the ancient tower house sits on the picturesque shores of Galway Bay. 
This stunning backdrop means it's rumoured to be the most photographed castle in Ireland! Plus, for added excitement, in the summer it hosts castle banquets, where guests pay to enjoy a medieval-style feast and live entertainment.
Take one of the many day trips from Galway –
Leading on from the above, the very best thing about Galway is that it's so close to many of Ireland's most famous attractions. For example, the Cliffs of Moher are only about an hour and a half's drive away from the city, and the Arran islands are easily reached by ferry from Galway bay! Further still, the Burren (a unique landscape dominated by limestone rocks) is also just on the doorstep.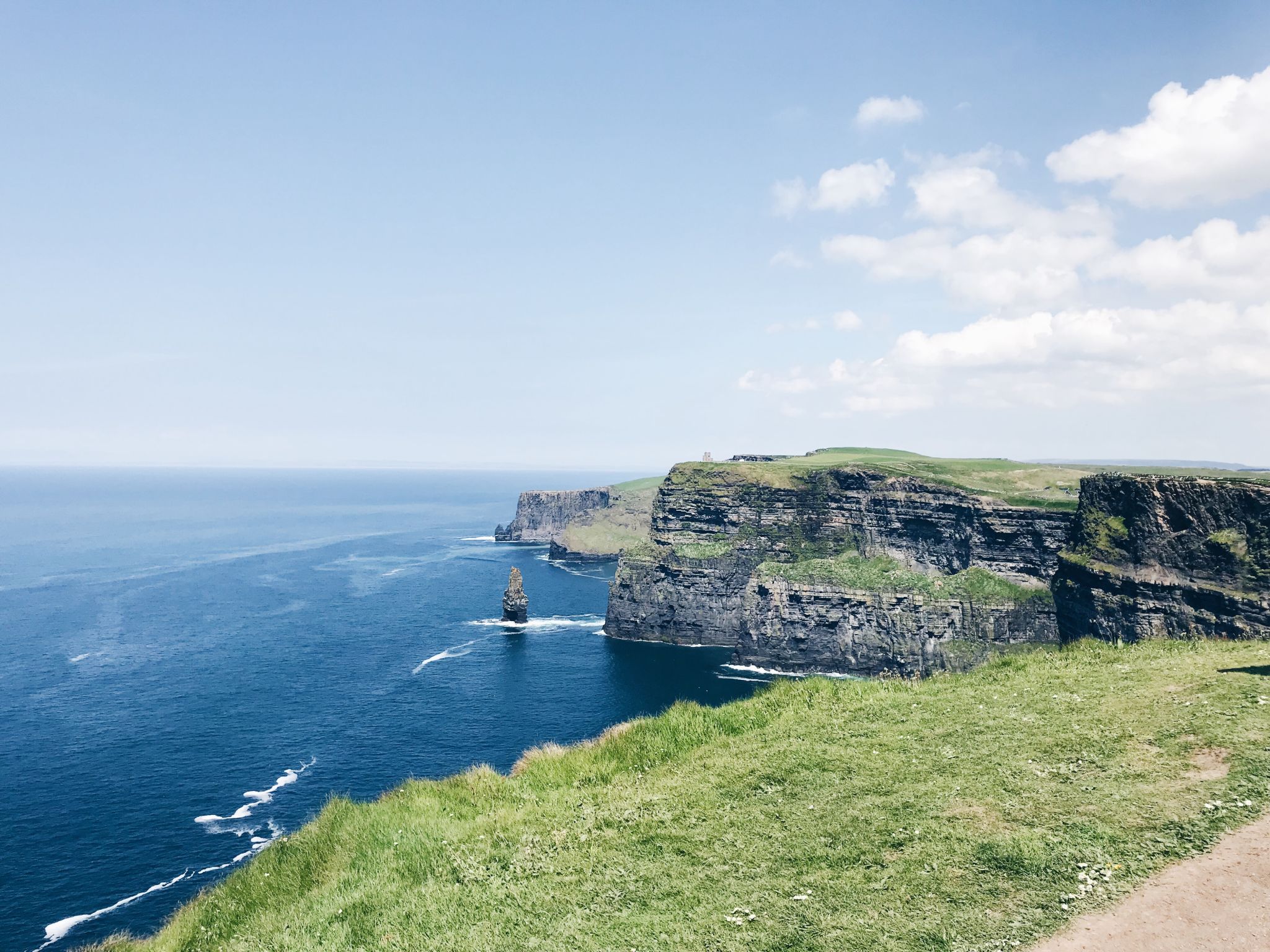 There's really an endless amount of Galway Tours that you could take! If you want more information on Day Trips from Galway check out this post. 
♦♦♦
Above I've given 8 of the top things to do in Galway Ireland! Each of which I did myself when visiting the city. In truth, I fell in love with the Galway's charm and connection with the rustic Irish landscape. Thus I hope by doing some of the things on my list you'll leave the city feeling the same way!
Also looking for things to do in Dublin? Then check out my post on Irelands Capital.
LIKE IT? PIN THIS POST FOR LATER: